The Nigerian Exchange's equities market bounced back from Monday's loses to close trading on Tuesday 0.58% up. Investors' wealth also grew by the same percentage points at the ASI, adding N138.05 billion to N24.05 trillion.
The week-to-date performance turned positive as Tuesday's gains outstripped the loses of Monday. The All-Share Index added 256.23 points to settle at 44,655.89 points at the end of trading on Tuesday.
Read also; Nigerian Inflation rises to 15.63%, after months of steady decline
Bua Foods Plc, whose share price suffered its first price decline on Monday, bounced back to gains on Tuesday. The shares opened for trading at N61.80, gained N2.60 to close at N64.40.
Activity Level
The activity level was mixed as the volume of shares traded increased by 9.76%, while the value of traded shares decreased by 28.65%.
235.23 million units of shares valued at N1.91 billion was traded in 4,151 deals.
TRANSCORP, GTCO and JAIZBANK Shares were the most traded by volume with 38.10mn, 18.73mn, and 14.98 shares respectively.
Shares of GTCO, FBNH and NB were the top three most traded shares by value. Shares of GTCO, FBNH and NB worth N476.48mn, N161.06mn, and 146.21mn respectively were exchanged.
Performance of Indices under our watch
The performance of the five indices under our watch are as below;
Banking Index: 0.98% (416.00 Points)
Industrial Goods Index: 0.79% (2120.44 Points)
Consumer Goods Index: 0.69% (563.69 Points)
Oil & Gas Index: 0.25% (362.10 Points)
Insurance Index: -1.61% (189.76 Points)
The Year-to-Date performance of the All-Share Index advanced to +4.82% following Tuesday's gains. The Week-To-Date performance went up to +0.45%
Investor Sentiment
Investors sentiment as measured by market breadth (advance/decline ratio) strengthened  to  02.1x , higher than the 0.7x recorded on Monday, as 27 stocks gained while 13 stocks also lost.
Top Gainers:
SKYAVN gained 10.00% to close at N5.83
COURTVILLE gained 8.57% to close at N0.38
FTNCOCOA gained 8.33% to close at N0.39
DANGSUGAR gained 7.35% to close at N18.25
BERGER gained 5.84% to close at N8.15
Top Losers:
NEM lost 8.33% to close at N3.63
SUNUASSUR lost 5.88% to close at N0.32
REGALINS lost 4.26% to close at N0.45
SOVRENINS lost 4.00% to close at N0.24
WAPIC lost 3.92% to close at N0.49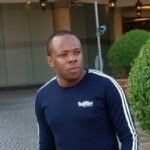 Nnamdi Maduakor is a Writer, Investor and Entrepreneur