The Nigerian Exchange equities market closed positively on Wednesday, as the benchmark All-Share Index (ASI) rose by 4 bps to close at 37,872.55 points. The marginal gains were not sufficient to move the YTD performance, thus it remained at -6.0%. The Equity capitalization stood at N19.732 trillion.
The share price of Nigerian Aviation Handling Company (NSE Ticker: NAHCO) was adjusted today 14th July 2021 for a dividend of N0.13 as recommended by the Board of the company. The last close price was N2.40 while the Ex-div price is N2.27.
Activity level
The trading activity on Wednesday was mixed as volume of traded shares fell by 2bps to 197.2m units while the value of traded shares rose by 11.4% to N2.1bn.
Shares of UBA, ACCESS and ZENITHBANK was the most traded shares by volume. 35.921 million units of UBA Shares were traded to make it the top most traded, while 28.64m ad 17.64m units of ACCESS and ZENITHBANK respectively exchanged hands on the day.
ZENITHBANK Shares were the most traded by value with shares worth N424.6mn exchanging hands in 378 deals. MTNN and GTCO shares were the second and third most traded by value with N332.87mn and N304.51mn respectively.
Performance of Indices under our watch
The performance of the five indices under our watch are as below;
Oil & Gas Index: +0.6%
Industrial Goods Index: 0.0%
Consumer Goods Index: 0.0%
Insurance Index: -0.3%
Banking Index: -0.9%
Investor Sentiment
Investor sentiment as measured by market breadth (gainers/losers ratio) strengthened to 1.5x from 1.2x recorded in last trading session as 17 stocks advanced while 11 stocks declined.
Top Gainers: CAPHOTEL gained 10% to close at N2.64, NCR gained 9.89% to close at N3.00, UNITYBNK gained 6.78% to close at N0.63, TOTAL gained 6.06% to close at N168.00 and FTNCOCOA gained 5.13% to close at N0.41.
Top Losers: REGALINS lost 6.12% to close at N0.49, LINKASSURE lost 5.41% to close at N0.70, CORNERST lost 5.36% to close at N3.53, OANDO lost 4.14% to close at N3.01 and CHIPLC lost 2.86% to close at N0.68.
Outlook
We expect the financial reports for the H1 period to dictate the direction of the market in coming trading sessions.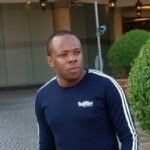 Nnamdi Maduakor is a Writer, Investor and Entrepreneur