The Leadership of Labour Party has called for the cancellation of unverified and manipulated election results in Rivers state over alleged electoral malfeasance.
The demand was made by Barrister Julious Abure, the National Chairman of the party in Abuja on Sunday.
Also read; INEC says it did not extend voting period in 16 states
Barrister Julious explained that the party's demand was predicated on revelations emanating from Rivers state after Saturday's presidential and national assembly elections in the state.
In the words of the LP Chairman, evidence abound that thugs believed to be agents of the state government invaded various polling units and collation centres, took away election materials including the results sheets, manipulated the BVAS machines and uploaded fake results in to the Central portal.
He said, "We took particular note of incidences in places like Obio/Akpor, Khana, Eleme, Obigbo, Rumukoro and several other areas where Labour Party was clearly leading in virtually all the polling units with very wide margins.

"Governor Nyesom Wike, faced with stark reality of defeat even in the polling units in his compound in Worji, where LP scored 323 votes against APC and PDP's 5 and 2 votes respectively, he used the soldiers and police to intimidate, harassed and snatched ballot papers.

"Nigerians went into this election based on the assurances by the Independent National Electoral Commission, INEC that the deployment of BVAS was a perfect antidote to electoral malpractices in Nigeria, but what transpired across Nigeria, if allowed to stand is purely a betrayal of trust by millions of Nigerians on INEC.

"INEC's staff were intimidated by these thugs in connivance with the military personnels and police officers who were deployed to protect them, into doing their bidding and were forced to manipulate the BVAS, being afraid of the consequences of their refusal.

"Some of these manipulations happened way into late in the night. We demand that INEC investigate these atrocities against Nigerian voters by the political class.

"We are therefore asking that INEC should rise to the occasion and cancel all the unverified and manipulated results arising from the presidential and national assembly elections in parts of Rivers state particularly in places like Obio/Akpor, Khana, Eleme, Obigbo and Rumukoro amongst others."
Investogist reported on Saturday that INEC Staff at Polling Units were struggling to upload Polling Unit Results to IReV.
INEC Personnel at a Polling Unit monitored by Investogist had blamed the failure to upload the results on technical and network problems, before the left the unit without uploading the results in contravention of INEC's own guidelines.
INEC official explains why results are not being uploaded on IReV at Polling Unit 034 – London Estate Junction, Igbo 1, Etche LGA Rivers state. pic.twitter.com/gxMolpLdkk

— Investogist (@investogist) February 26, 2023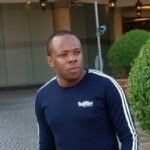 Nnamdi Maduakor is a Writer, Investor and Entrepreneur