Following right behind fellow tier 1 banks; UBA and STANBIC, Guaranty Trust Bank Plc (NSE Ticker: GUARANTY) has released its audited report for the half year period ended 30 June 2020, to the Nigerian Stock Exchange and the investing public.
As customary, the bank board proposes an interim dividend of 30 Kobo per ordinary share of 50 kobo, subject to the deduction of appropriate withholding tax. Details of the corporate action announced by the bank are;
Proposed dividend: 30 kobo
Qualification date: 15 September 2020
Payment date: 21 September 2020
On the payment date, shareholders whose names appear on the Register of Members as at Tuesday, September 15, 2020, for ordinary shareholders and on September 3, 2020, for holders of the Bank's Global Depository Receipts (GDR) listed on the London Stock Exchange, will have their dividends paid directly into their accounts.
Analysis of the report: Income Statement
While the bank saw a marginal increment in its interest income in the first 6 months of 2020, it saw a decrease in its fees and commission income over the same period.
Interest income increased by 2.76%, from N146.448 billion in the previous year to N150.486 billion in the current year.
On the other hand, there was a 30.04% decrease in the fees and commission income, from N35.348 billion to N24.729 billion. The decline in this earnings segment was recorded across most of its components, but the most prominent amongst them were;
Credit related fees and commissions declined from N6.564 billion to N3.352 billion.
Corporate finance fees declined from N5.053 billion to N1.188 billion.
E-business income declined from N7.134 billion to N4.836 billion.
Aside from the interest expense which declined, the bank recorded an increase in every other major expense segment; fee and commission expense, personnel expenses, and other operating expenses increasing by 61.79%, 1.06% and 25.63% respectively.
The high increase in the fee and commission expense was primarily as a result of the N1.600 billion the bank spent on bank charges in the first half of the year, in H1 2019, it spent only N656.854 million on bank charges.
Despite an upsurge in other income, driven mainly by foreign exchange gains, the bank reported a decline in profit for the period. Its profit dropped by 4.90% to N94.271 billion from the N99.133 billion recorded at the same period in the preceding year.
GUARANTY has been known as the most efficient bank listed on the Nigerian Stock Exchange, and it polished those credentials with a Return on Average Equity (ROaE) of 13.39% in just 6 months, with an Earnings Per Share (EPS) of N3.32 (2019: N3.50).
Analysis of the report: Statement of Financial Position
A review of the asset column on the bank's balance sheet show a 20.02% increase in its total asset. The increase can be traced to the near doubling of the financial assets the bank held at fair value as at 30 June 2020.
The total financial asset increased from N73.486 billion as at 31 December 2020, to N140.798 billion as at 30 June 2020. Out of this, N129.793 billion is classified under current, while N11.004 billion is classed under non-current.
The financial assets are comprised of bonds and treasury bills as below;
Bonds: N10.292 billion are bonds FVPL, out of which N9.033 billon is non-Nigerian trading bonds.
Treasury bills: N130.505 Treasury bills FVPL, out of which N19.307 billion is non-Nigerian treasury bills.
The total liabilities increased by 23.40%, from N3.071 trillion to N3.790 trillion. The increase in total liabilities is attributable to the increases in Deposits from customers and other liabilities.
Total equity increased marginally by 4.89%, from N687.337 billion to N720.933 billion.
Analysis of the report: Cash Flow statements
A review of the cash flow statements shows the following movement in cash within the bank;
Cash flows from operating activities: The net cash provided by operating activities decreased from N372.266 billion as at June 2019, to N111.287 billion as at June 2020.
Cash flows from investing activities: The bank generated N103.009 billion from investing activities, as it redeemed investment securities worth N390.673 billion, and spent less amount in purchase of investment securities when compared to the same period in 2019.
Cash flows from financing activities: Net cash used in financing activities increased to N94.533 billion in June 2020, up from the N63.305 billion used in June 2019.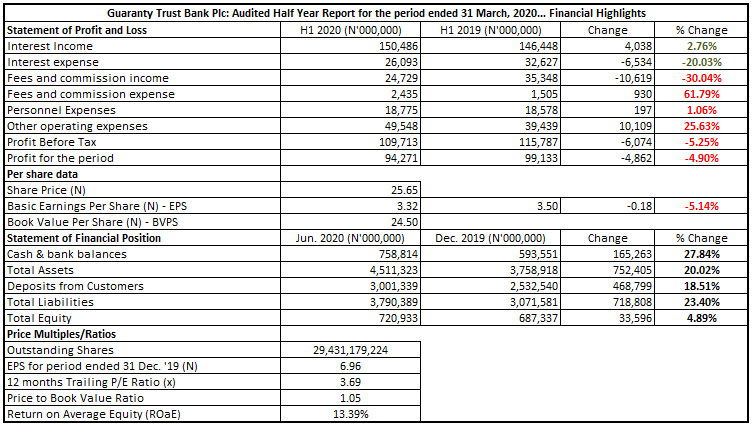 Table 1: Financial Highlights
About the company
Guaranty Trust Bank Plc is a company incorporated in Nigeria. The address of the Bank's registered office is Plot 635, Akin Adesola Street, Victoria Island, Lagos. The Parent and the Group are primarily involved in investment, corporate, commercial and retail banking.
GUARANTY has 29,431,179,224 outstanding shares, and a market capitalization of N754.909 billion.
Stanbic Nominees Nigeria Limited is the biggest shareholder of the bank, with 6.877 billion units representing 23.37% ownership.
Price Movement
GUARANTY, just like every other listed company on the Nigerian Stock Exchange has seen some price decline from the highs of 2018, the stock price is down 33.39% over the past 3 years AND 30.01% over the past 2 years.
In a 5 year period, it is still up by 11.52%, while YTD, it is down by 13.64%. The 52 week high and low prices are N34.40 and N16.70 respectively.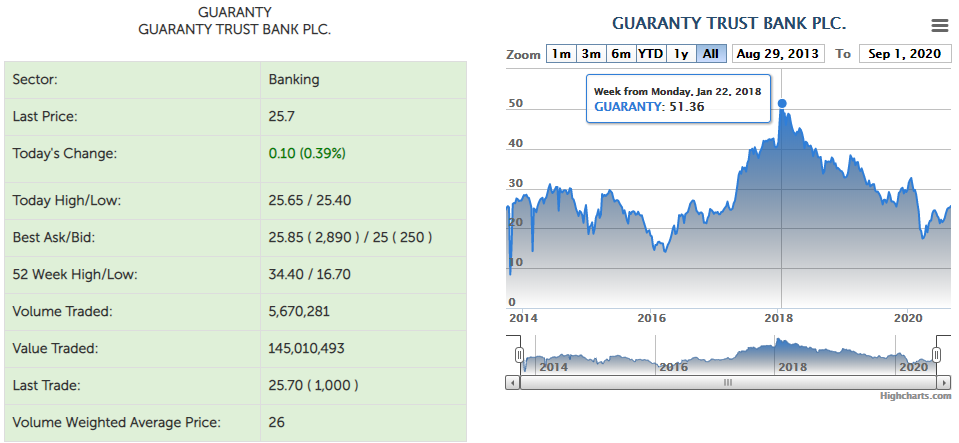 Source: Mytradebook
Analyst's view
In our previous stock picks, we had rated GUARANTY a BUY, we will be reviewing our opinion of the stock in next week's stock pick.
At the current prices, GUARANTY is traded at a 12 month trailing P/E (Price-to-Earnings) ratio of 3.69x, significantly lower than the NSE average and within the average range of the other tier 1 banks. This keeps the stock attractive.
Written by;
Nnamdi M.