In the wake of the collapse of crypto exchange, FTX, Goldman Sachs has indicated plans to buy or invest in crypto companies. This was made known by Goldman's head of Digital Assets, Mathew McDermott in an interview with Reuters.
Also read; Julius Berger Nigeria Plc to open branch office in Benin Republic
Mathew stated that FTX's implosion heightened the need for more trustworthy, regulated cryptocurrency players, and that big banks see an opportunity to pick up businesses that are priced more sensibly.
"We do see some really interesting opportunities, priced much more sensibly," McDermott said in an interview in November.

"It's definitely set the market back in terms of sentiment, there's absolutely no doubt of that," McDermott said. "FTX was a poster child in many parts of the ecosystem. But to reiterate, the underlying technology continues to perform."
The collapse of FTX continues to have a domino effect, affecting crypto-focused companies that have some exposure to the embattled firm. Because of this, institutional investors like Goldman are looking for opportunities to buy and invest at lower prices while the effects of FTX are lowering valuations.
The ripple effects from FTX's collapse have boosted Goldman's trading volumes, McDermott said, as investors sought to trade with regulated and well capitalized counterparties.
"What's increased is the number of financial institutions wanting to trade with us," he said. "I suspect a number of them traded with FTX, but I can't say that with cast iron certainty."
Goldman also sees recruitment opportunities as crypto and tech companies shed staff, McDermott said, although the bank is happy with the size of its team for now.
While the amount Goldman may potentially invest is not large for the Wall Street giant, which earned $21.6 billion last year, its willingness to keep investing amid the sector shakeout shows it senses a long term opportunity.
Speaking with CNBC on Nov. 10, the CEO of Goldman said that with the drama at FTX unfolding, he sees much potential in the underlying technology as its infrastructure becomes more formalized. He added that he views cryptocurrencies as "highly speculative".
The global cryptocurrency market peaked at $2.9 trillion in late 2021, according to data site CoinMarketCap, but has shed about $2 trillion this year as central banks tightened credit and a string of high-profile corporate failures hit. It last stood at $865 billion on Dec. 5.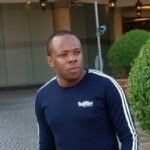 Nnamdi Maduakor is a Writer, Investor and Entrepreneur