United Capital Plc, (NSE: UCAP) reported an impressive growth in its Audited Financial Statements for the year ended December 31, 2020 released on Monday.
The Group reported growth Revenue in FY 2020 by 50% to N12.87bn from N8.59bn in FY 2019, Profits before tax recorded a significant growth of 61%, while PAT was up 57% year-on-year.
Total Revenue: United Capital's total revenue increased by an impressive 50% YoY on the back of a strong growth in revenue components:
Fee and Commission income (+77% YoY) to N3.47 billion,
Investment Income (+42% YoY) to N8.26 billion,
Net trading income which was up 453% YoY to N753.23 million.
The company reported N7.95 billion profit before income tax in 2020, a 61% increase compared to the N4.95 billion in 2019.
United Capital's Profitability margin also improved with PBT margin gaining 4.13 percentage points to 62% for FY 2020 relative to 58% for FY 2019 as PBT expanded by 61% during the period.
The profit tax rose by 57% to N7.811 billion in 2020 from N4.97 billion in 2019.
PAT margin also improved, up 2.79 percentage points to 61%, despite to a tax charge of 2% for 2020 relative to a tax credit of N23.7 million in 2019.
The earnings per share increased to 130kobo in 2020 from 83kobo in 2019.
The total assets of United Capital Plc in 2020 grew by 48% YoY to N222.75 billion, largely on account of a significant 54% YoY increase in investment in financial assets and a 44% growth in the cash and cash equivalents line.
Total Liabilities also rose by 52% YoY to N198.32 billion mainly due 60% growth in managed funds to N116.02 billion and 43% increase in other borrowed funds to N72.66 billion in 2020.
Shareholder's wealth improved during the period, up 25% YoY to N24.43 billion, driven by the strong 29% growth in retained earnings to N21.6 billion from N16.79 billion in 2019.
Proposed Dividend: The Directors proposed a dividend of 70k per share, amounting to a total of N4.2billion dividend to be paid to shareholders upon approval of members at the AGM.
The dividend is payable to shareholders whose names appear on the Register of Members at the close of business on March 5, 2021. The dividend payment date is March 24, 2021.
The current equity at the time of this report is N6.11 per share.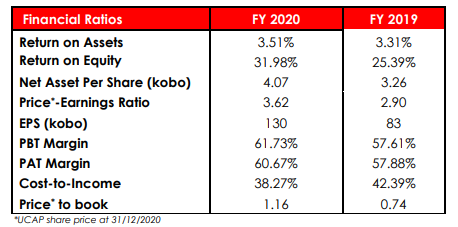 Source: United Capital Plc
United Capital Plc (previously called UBA Capital Plc) was incorporated in Nigeria, as a Public liability company, on 3 August, 2012, to act as the ultimate holding company for the United Capital Group.
The company was listed on the Nigerian Stock exchange on 17 January, 2013. The Company changed its name to United Capital Plc following the approval of the resolution by shareholders on the 16th December, 2014.
The principal activities of the Group are mainly the provision of investment banking services, portfolio management services, securities trading and trusteeship.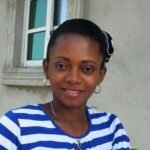 Ifunanya Ikueze is an Engineer, Safety Professional, Writer, Investor, Entrepreneur and Educator.