United Capital Plc (NGX ticker: UCAP) posted an impressive financial report for the half-year period ended 30 June, 2021.
UCAP had earlier today released its unaudited consolidated and separate financial statements for the half-year ended 30 June, 2021 to The Nigerian Exchange.
The financial statements seen by Investogist shows double digit growths in gross earnings, profit before tax and profit after tax.
Analysis of Statement of Profit or Loss and Other Comprehensive Income
UCAP's gross earnings grew from N4.44 billion to N6.85 billion, an impressive 54.13% growth over the half year period, from January to June 2021.
Investment Income and Fee & commission income contributed most of the company's gross earnings; with N3.65 billion and N3.11 billion contributions respectively.
Investment income grew by 26.55% up from N1.36 billion at the same period in 2020 to N3.65 billion. The major components of the Investment income are; Interest from placements and bonds (N0.69 billion), Income from loans (N0.12 billion), dividend income from securities investments (N0.61 billion), profit on disposal of investment (N0.05 billion), dividend income on instruments at FVTOCI (N0.09 billion) and income from managed funds (N2.07 billion).
The 26.55% growth in this income segment is attributable to the dividend income from securities investments and profit on disposal of investment, both of which were not there in the same period in 2020.
Fees and Commission Income saw a triple digit percentage growth, going from N1.36 billion to N3.11 billion, a 127.95% increase.
Several segments of the Fees and commission income saw significant growth; "Other fees and commissions" grew from N0.95 billion to N2.53 billion, Fees recognised over time grew from N0.78 billion to N1.93 billion, Fees recognised at point in time grew from N0.58 billion to N1.18 billion and Financial advisory fees grew from N0.41 billion to N0.578 billion.
The company was able to keep the increase in its expenses below the growth it recorded in its revenue. Its personnel expenses increased by only 5.72%, from N0.67 billion to N0.70 billion. Its other operating expenses increased by 49.23%, from N0.92 billion to N1.37 billion.
UCAP reported a profit before tax of N3.74 billion, 64.95% higher than the N2.26 billion reported in the preceding year.
Income tax of N598.44 million was paid in H1 2021; with N486.24 million paid as Income tax, N74.80 million paid as Education tax and N37.40 million as Information technology tax.
The Profit After Tax for the H1 2021 period was N3.14 billion, a 64.21% increase from the N1.91 billion.
The company's Earnings Per Share as it H1 2021 stood at N1.05, up from N0.64.
Analysis of Statement of Financial Position
An analysis of the company's balance sheet shows that the company reduced its investment in financial assets, while significantly increasing its cash and cash equivalents.
The cash and cash equivalents as at 30 June 2021 stood at N202.29 billion. Out of this value, N15.71 billion was cash and balances with banks, while N186.62 billion was Money market placements.
The asset column analysis shows that UCAP reduced its investment in financial assets from N145.14 billion to N81.59 billion. The reductions came from a sale off of Investments in long term placements, Federal and State government bonds.
Total assets grew by 365.90% in the period in review, standing at N320.23 billion.
The liabilities also increased by 49.60%, from N198.32 billion to N296.68 billion.
Managed funds increased from N116.01 billion to N212.22 billion, while other borrowed funds increased marginally from N72.66 billion to N74.89 billion.
Shareholders Fund declined by 3.57%, from N24.42 billion to N23.55 billion.
Analysis of Statement of Cash Flow
A review of the cash flow statements shows that the company generated N92.61 billion from operating activities, an almost 50% growth from the N52.68 billion generated as at 31 December 2020.
A bulk of the cash generated from operating activities was from Managed funds; N96.20 billion.
In its investing activities, an analysis shows that the company did not make an purchase of investment securities, but rather generated N67.10 billion by the disposal of investment securities.
UCAP significantly reduced its borrowings, as its cash flow statement shows that it borrowed only N4.21 billion as at 30 June 2021, down from N32.21 billion as at 31 December 2021.
The cash and cash equivalents at the end of the period stood at N202.29 billion.
About the Company
United Capital Plc (previously called UBA Capital Plc) was incorporated in Nigeria, as a Public liability company, on 3 August, 2012, to act as the ultimate holding company for the United Capital Group.
The company was listed on the Nigerian Stock exchange on 17 January, 2013. The Company changed its name to United Capital Plc following the approval of the resolution by shareholders on the 16th December, 2014.
The principal activities of the Group are mainly the provision of investment banking services, portfolio management services, securities trading and trusteeship.
UCAP has 6,000,000,000 outstanding shares, with a market capitalization of N37.80 billion.
As at 31 December 2021, only one shareholder held more than 5% interest in shares of the company; West Coast Equity Limited with 26% of the shares.
Analyst's view
United Capital Plc is one of the best performing stocks on the Nigerian Exchange, with a consistent dividend payout history.
The share price has risen 176% in past 5 years, 186% in past 2 years, 131% in past 1 year and is up 33.76% YTD.
Its 8 Year Average Dividend Yield is 13.84%, the fourth best on the market.
On a long term perspective, UCAP shares is a good buy for any Investor, provided they continue on the current financial performance track.
However, our analysis puts the fair value of the stock between N3.00 and N4.00, therefore making it overvalued at the current share price of N6.30.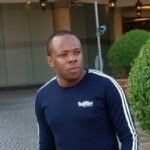 Nnamdi Maduakor is a Writer, Investor and Entrepreneur