Ed Woodward, the executive vice-chairman of Manchester United, is set to leave his role, on the heels of speculations that the planned European Super League is set to collapse.
The Manchester United executive vice-chairman is reported to be one of the driving forces behind the planned 12-team breakaway, which was announced on Sunday.
The proposals for the Super League proved hugely unpopular and drew widespread criticism from fans, pundits, and players – including United's own Marcus Rashford and Luke Shaw.
49 Year Old Woodward was already set to leave the club at the end of 2021 and he will likely continue to fulfil his duties until then. It is believed that his departure is said to be an amicable one and not related to the European Super League.
Ed Woodward advised the Glazer family during their takeover of Manchester United in 2005, and took on a commercial role at the club two years later, before being appointed as an executive vice-chairman in 2021, following David Giff's retirement.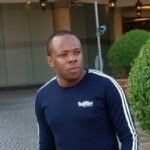 Nnamdi Maduakor is a Writer, Investor and Entrepreneur