In what has arguably become one of the top trending transfer sagas in this window alongside the Mbappe-to-Real Madrid story, Manchester United Royalty, Cristiano Ronaldo could be facing his old club this season in Manchester City colours according to multiple media reports.
According to one of the reports by the Independent, "Man. City has agreed personal terms with the Juventus star ahead of possible transfer." The paper went on to say that the Portuguese has already spoken to Pep Guardiola about his role in the team ahead of what would be a sensational move by the Premier League champions.
Manchester City and Juventus are negotiating over a fee for Cristiano Ronaldo, but that is the only remaining barrier in what would be a sensational signing for the English champions.
NBCSports reported on Thursday that "Ronaldo is said to be moving to the Etihad Stadium for a UEFA Champions League run with Manchester City, with Portuguese journalist Goncalo Lopes going so far as to call it a "done deal.
"Lopes says that super agent Jorge Mendes has convinced Ronaldo to spurn his hesitancy to sign with Manchester United's hated rival."
Lopes says that Ronaldo views Man City as "his best chance" to win another Champions League before heading to Major League Soccer.
Should he move to Manchester City, Cristiano Ronaldo will not be the first Manchester United Player to move to the "Noisy Neighbours", if I am to borrow the words of Sir Alex Ferguson.
Carlos Tevez infamously signed for City after a successful stint with Manchester United.
Peter Schmeichel also had a very ill-advised stint at the club, while Owen Hargreaves also signed with City.
When asked for his thoughts on the move if it happens, Manchester United Legend and current Manager who played his last seasons at Manchester United alongside Cristiano Ronaldo, Ole Gunner Solskjaer had this to say about players moving between United and City, as quoted by Goal ;
"When I played for Man Utd, if a rival club tried to sign me, and I had gone, well where's the loyalty?

"Loyalty is one of the values I really, really put highly.

"It's not for me. I know we're professionals, but when you play for Man Utd you don't go to Man City. We've had examples of that and I didn't really agree with it.

"I won't name names but you all know who I mean. Enough said."
Soksjaer made these thoughts known when rumours linking Sergio Aguero to Manchester United surfaced earlier this year.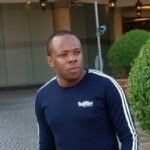 Nnamdi Maduakor is a Writer, Investor and Entrepreneur