Nigeria's External Debt Stock as at March 31, 2021, stood at $32.86 billion according to the Debt Management Office (DMO) report.
The external debt portfolio comprises of multilateral debt from institutions like the International Monetary Fund (IMF), the World Bank Group, African Development Bank Group; bilateral debts from other countries like China, France, India, Japan and Germany; commercial debts like Eurobonds and Diaspora Bond as well as Promissory Notes.
Nigeria external debt categories
Multilateral $17.83 billion (54.26%)
Bilateral: $4.18 billion (12.73%)
Commercial: $10.67 billion (32.47%)
Promissory Notes: $179.53 million (0.55%)
The World Bank Group holds the highest percentage of Nigeria's external debt amounting to $11.51 billion. This represents 35.02% of the total external debt.
Nigeria owes the International monetary fund and the African Development Bank Group $3.48 billion and $2.84 billion respectively.
Nigeria is most indebted to China in terms of country. China holds 81.36% ($3.4 billion) of Nigeria's bilateral debt according to the DMO. This represents 10.35% of the total external debt.
Other countries are France ($486.68 million), Germany ($183.74 million), Japan ($74.6 million), and India ($34.59 million).
Read also: There is no federal grazing law, Buhari should avoid tension – Basiru, Senate spokesman
Nigeria Eurobonds amount to $10.37 billion, representing 31.55% of the total external debt – the second largest after the World Bank Group.
Diaspora Bond and Promissory Notes amounts to $300 million and $179.53 million respectively.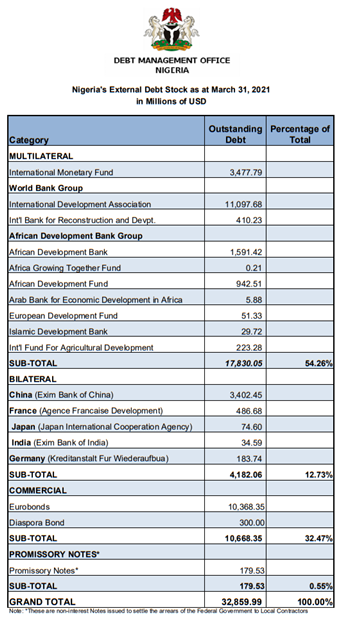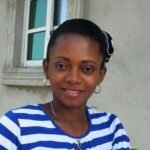 Ifunanya Ikueze is an Engineer, Safety Professional, Writer, Investor, Entrepreneur and Educator.