A long-awaited public offering of Coinbase Global Inc. appears near after the cryptocueency trading platform filed paperwork with the U.S Securities and Exchange Commission.
Coinbase on Thursday released documents for its public debut on the Nasdaq stock exchange via a direct listing.
Coinbase plans to list on the Nasdaq Inc. exchange under the ticker symbol "COIN", with the aim of employing a nontraditional direct listing to take itself public. This method means it won't raise any new money, similar to approaches used by Palantir Technologies PLTR, -9.21%, Slack Technologies WORK, -1.30% and Spotify Technology SPOT, -9.45% in recent years.
The company explained that it is offering "Class A common stock for sale via a direct listing," which means "any person or business with a brokerage account" can place an order for the shares in the opening order book.
In the filing, the digital trading platform cited as a risk factor Bitcoin's creator, Satoshi Nakamoto – the pseudonym used by the person or group of people who created bitcoin. If the identity of the creator was revealed, it could cause bitcoin prices to deteriorate, according to the filing.
The filing also referenced Nakamoto's personal stash of bitcoins, which totals over 1 million. As of February, one bitcoin was worth about $50,000.
Nakamoto could negatively affect Coinbase, the company said, and destabilize the entire crypto market if the creator decided to transfer his bitcoins, which are valued at over $30 billion.
The creator was the first entity to ever mine for bitcoins, and Nakamoto's stake in the digital currency accounts for nearly 5% of the entire bitcoin market, as there are only 21 million bitcoins that can be mined.

Bitcoin's value has largely been driven by its deflationary tendencies. If 1.1 million bitcoins were released into the market, the digital currency's price would almost surely fall.

Similarly, Bitcoin has been praised for its decentralized nature. The currency is not beholden to any institutions or individuals. If Nakamoto was unmasked, that would place the currency under a single entity, which could discourage traders that bought into the currency for its decentralization.
Another risk factor in Coinbase is that it is a bet on an unproven asset class that was created just over a decade ago. Coinbase attempts to make it clear that its fate is linked to the prospects for Bitcoin and ethereum and the thousands of other alternative coins that have been written into existence.
But a decline in interest and tough regulations in the U.S. and elsewhere could wallop the exchange platform.
Here's now Coinbase explains it:
There is no assurance that any supported crypto asset will maintain its value or that there will be meaningful levels of trading activities. In the event that the price of crypto assets or the demand for trading crypto assets decline, our business, operating results, and financial condition would be adversely affected. A majority of our net revenue is from transactions in Bitcoin and ethereum. If demand for these crypto assets declines and is not replaced by new demand for crypto assets, our business, operating results, and financial condition could be adversely affected," Coinbase writes in its S-1 filing.
Coinbase is a Silicon Valley crypto exchange was co-founded in 2012 by Brian Armstrong, 38, who runs the platform chief executive. Fred Ehrsam, a Coinbase director, also helped to create the company.
There are two class of Coinbase shares. Armstrong owns 11% of the Class A shares and 22% of the Class B shares, while Ehrsam owns 11.4% of the Class A and 9% of the Class B. Venture-capital firm Andreessen Horowitz, is the largest owner of Coinbase, boasting about 25% of Class A shares and14% of Class B.
The crypto exchange platform ranks No. 3 among the largest digital asset exchanges in the world, according to data site CoinMarketCap.com. That ranking puts it behind Binance, based in Seattle and Huobi Global, a Seychelles-based cryptocurrency exchange that was founded in China.
Coinbase states that it currently has "approximately 43 million retail users, 7,000 institutions, and 115,000 ecosystem partners in over 100 countries." As of Dec. 31, 2020, the platform had executed $456 billion in trading volume since its inception and stored over $90 billion worth of assets. In May 2020, the company became "a remote-first company," which means, "we do not maintain a headquarters."
Moreover, Coinbase's valuation jumped to more than $100 billion ahead of the IPO. According to Axios, "The most recent batch of 127,000 shares was sold [last] Friday at $373, which works out to a valuation of $100.23 billion." On FTX exchange, Coinbase's (CBSE) pre-IPO contract soared when the SEC filing news broke but has since retreated slightly.
The company offers no physical address for its headquarters in California, citing the COVID-19 pandemic, which has forced a number of companies to have most, if not all, of its staffers work remotely. For that reason, Coinbase refers to itself as "a remote-first company." However, having no address to some was viewed as aligning with the decentralized nature of blockchain and bitcoins.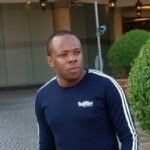 Nnamdi Maduakor is a Writer, Investor and Entrepreneur