In a press release by the Central Bank of Nigeria, signed by the Director Trade and Exchange Department, DR. O.S Nnaji, the Apex bank stated that all authorized dealers have been directed to discontinue the processing of Forms M for the importation of Maize/Corn with immediate effect.
All authorized dealers were requested to submit the list of Forms M already registered for the importation of Maize/Corn to the Central Bank on or before the close of business on Wednesday July 15, 2020.
Authorized dealers are Nigerian banks that have been licensed by the CBN to deal in foreign exchange.
Form M is a mandatory statutory document to be completed by all importers for importation of goods into Nigeria. The life span of a Form M is 180 days (for general merchandise) and 365 days (for plant and machinery), after which an extension of 180 days (for general merchandise) and 365 days (for plant and machinery) can be granted on the Form M by the Authorized Dealer. Any further extension has to be approved by the Central Bank of Nigeria (CBN).
It is therefore mandatory for all importers to complete and register Form 'M' with Authorized Dealers at the time of placing orders whether the transaction is valid for foreign exchange or not.
The apex bank stated that the new measure is part of efforts by the central bank to increase local production, stimulate a rapid economic recovery, safeguard rural livelihoods and increase jobs, which were lost as a result of the ongoing COVID-19 pandemic.
11.4 million metric tonnes of maize were consumed in Nigeria in 2019, according to data from indexmundi. Out of this, 500,000 metric tonnes was imported, while the rest was produced domestically.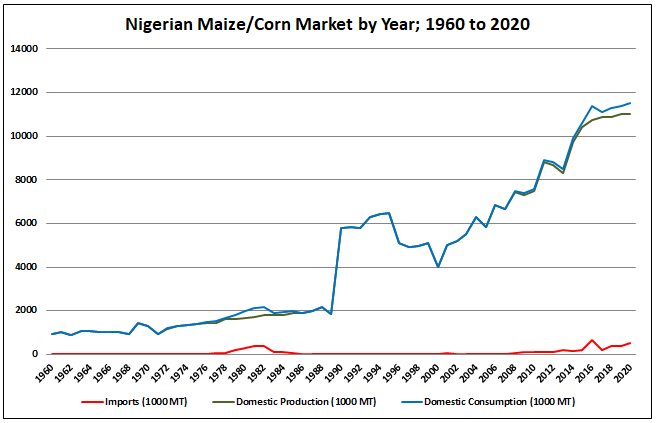 Source: indexmundi.com
According to Grain and Feed 2019 Annual report for Nigeria by the USDA Foreign Agricultural Service, maize/corn consumption in Nigeria occurs in the form of maize flour for feed mills (i.e for animal feed), confectionary, roasted corn, boiled or prepared as porridge. Green (fresh) maize is also boiled, or roasted on its cob, and serves as a snack.
Over 60 percent of Nigeria's production goes into animal feed, especially for poultry, 10 -15 percent is directly consumed by individuals in households. The balance of the corn production goes to raw material/ingredient utilization in food manufacture.
Written by;
Nnamdi M.