Caverton Offshore Support Group Plc (NGX: CAVERTON) has reported a profit of N566.05 million for the first quarter ended 31 March, 2023.
Also read; List of Dividends announced in 2023, qualification and payment dates
The reported profit is 4.92% lower than the N595.36 million the company posted for the same period in 2022.
A review of the unaudited consolidated financial statements posted on the Nigerian Exchange Limited showed that both revenue and other income declined by 35.05% and 88.89% respectively.
The company was able to achieve a reduction in its expenses to offset the reductions in revenue, and did not pay any income tax in the period in review, it paid a current income tax charge of N63.55mn in the first quarter of 2022.
Analysis of Statement of Profit or Loss and Other Comprehensive Income
Revenue: Caverton earned an revenue of N5.18bn in the first quarter of 2023, a 35.05% decrease from the N7.97bn it earned for the same period in the preceding year. While it recorded an increase in revenue from Helicopter Charter from N45.65mn to N1.53bn, it posted a huge decline in revenue from its biggest revenue stream; helicopter/airplane contract. The revenue from the helicopter/airplane contract declined from N7.50bn in Q1 2022 to N3.40bn in Q1 2023.
Operating expenses: The company posted a reduced operating expense, from N5.60bn to N2.99bn. The decline could be seen in the expenses on crew salaries and navigational expenses. While it spent N2.48bn and N1.13bn on crew salaries and landing & navigational respectively in Q1 2022, it spent N1.71bn and minus N133.29mn on the same items in Q1 2023.
Administrative Expenses: It's administrative expenses also dropped by 14.03%, from N1.08bn to N936.85mn. Employee benefit expense which is the biggest item on the administrative expense, declined from N447.59mn to N351.96mn.
Finance Costs: Caverton paid N230.26mn on interest bearing debts and borrowings in the first quarter of 2023. It paid N1.12bn on the same in Q1 2023.
Loss before tax: Caverton reported a profit before tax of N566.05mn in Q1 2023, a 14.09% decrease from the N658.91mn it reported in Q1 2023.
Loss after tax: It reported a profit after tax of N566.05mn for the period under review, a decrease of 4.92% from the N595.36mn reported for the same period in 2022.
Analysis of Statement of Financial Position
Total Assets: The company's assets declined by 9.89% to N70.44bn, against the N78.17bn it held as at 31 December 2022. The major component of the company's asset; property, plant and equipment decreased from N26.41bn to N18.62bn accounting for the decrease in assets. The cash and cash equivalents held by Caverton went up from N495.01mn to N1.19bn.
Total Liabilities: The totally liabilities declined marginally by 5.16% from N60.86bn to N57.72bn. Interest-bearing loans and borrowings and trade & other payables are the biggest liability items with N29.30bn (31 Dec. 2022: N25.63bn) and N19.08bn (31 Dec. 2022: N25.50bn).
Shareholder's fund: The shareholder's fund dropped by 26.55% from N17.30bn to N12.71bn. The retained earnings, the major component of the Shareholder's fund dropped by 51.58% from N8.85bn to N4.28bn.
Analysis of Statement of Cash Flow
Operating activities: Caverton used N3.91bn from operations (N5.35bn was generated in the preceding period).
Investing activities: Net cash of N18.43mn was generating from investing activities. N552.97mn was generated from the same activity in the preceding period.
Financing activities: N1.88bn was used in financing activities as the company brought in N3.51bn from borrowings. In same period in 2022, it used N8.86bn in financing activities.
Commenting on the results, Caverton's Chief Executive Officer, Mr. Bode Makanjuola, said ''the period's financial position is a manifestation of the various efforts put in by management to mitigate the effects of the negative results posted in 2022 due to negative occurrences that bedevilled the company in the immediate past year.
To ensure that Shareholders' values are not eroded, necessary steps have been taken to turn the fortune of the company around and strengthen shareholders' confidence in the affairs of the company, he stated.
Furthermore, the company's Chief Executive officer stated that the Group has refocused its efforts on diversifying its business interest within the aviation and marine sectors while exploring other more profitable areas for investments and business development. While reconsolidating on our aviation oil contracts and industry market share, efforts are underway to boost revenue and reduce our operating and finance costs".
According to the CEO, "The Maintenance Repair and Overhaul (MRO) facility and the Caverton Aviation Training Centre (CATC), both in Lagos, have officially commenced business with prospects to improve the earning capacity of the Group. We have already commenced third party maintenance of helicopter aircraft in Nigeria and given our Free Trade Zone status we are also attractive to operators and aircraft owners in neighboring West African countries who have also had to endure the arduous task of sending aircraft and engines to Europe for heavy maintenance and overhauling.
We are confident that the level of patronage we have witnessed over the 1st quarter of the year will herald improved revenues for 2023. Furthermore, coming off the successful reception of our AW139 flight training simulator, a second Simulator for the smaller AW 109 helicopter is due to arrive in the second quarter of 2023". This according to him will further boost the revenue generating potential of our Training Centre.
On the marine front, Caverton Marine Limited has been at the forefront of promoting and supporting improved water transportation. As a result of the growing interest in waterways transportation, the quality and safety of water ferries has been a major talking point amongst both regulators, passengers and operators.
Caverton recently invested in a boatyard where the company is currently building GRP passenger ferries and security boats to promote and encourage safe water transportation. These marine vessels are being built to the highest safety and quality standards under international marine vessel classification agency guidelines. Marine vessels are classified according to the soundness of their structure and design and classification agency guidelines are there to ensure the vessels meet an acceptable standard of stability, safety and environmental impact acceptability.
We are hopeful that in the face of our ever-increasing population, demand for marine transportation as an alternative to our congested roads will continue to grow and thereby attract more businesses for our Marine sector. There is therefore a need for high-quality vessels that can meet the demands of both local and international markets.
The CEO stated that "Our boatyard and jetty will provide a hub for the construction and maintenance of marine vessels, creating jobs and contributing to the development of the Nigerian maritime industry. Our team has significant experience in boat building and we are confident that we can deliver top-quality vessels that meet international standards. We presently use modern technology and equipment to ensure that our boats are not only durable and efficient but also environmentally friendly".
About the Company
Caverton Offshore Support Group Plc (the Company or the parent) is a limited liabilities company incorporated and domiciled in Nigeria. The
registered office is located at 1, Prince Kayode Akingbade Close, Off Muri Okunola Street, Victoria Island, Lagos, Nigeria.
The Group is principally engaged in the provision of offshore services to the oil and gas industry, harbour and general marine operations; and the provision of charter, shuttle and maintenance services of helicopters and airplanes to third parties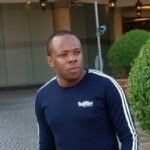 Nnamdi Maduakor is a Writer, Investor and Entrepreneur