Caverton Offshore Support Group Plc (NGX: CAVERTON) has reported a loss after taxation of N5.16 billion for the 2022 financial year ended 31st December, 2022.
This will make it the second year in a row that Caverton has reported a loss for the full financial year, having reported a loss of N4.34bn for the 2021 financial year.
Also read; List of Dividends announced in 2023, qualification and payment dates
A review of the company's financial statements over the last 5 years shows that the company has continued to suffer a downward slide in profitability.
It has gone from a N3.80bn profit in 2018 to N4.38bn in 2019, then to N1.18bn in 2020, and slide into loss in 2021, posting a loss of N4.34bn.
Analysis of Statement of Profit or Loss and Other Comprehensive Income
Revenue: Caverton earned an revenue of N29.22bn from its customers in 2022, 15.91% drop from the N34.75bn it earned in 2021. Caverton made most of its revenue in Nigeria; N28.86bn in Nigeria and N367.75mn from outside Nigeria. Of this revenue, Helicopter/Airplane contract brought in N25.34bn (2021: N33.59bn), while Helicopter Charter brought in N3.07bn (2021: N1.01bn). Following a N25.54bn cost of sales, Caverton posted a gross profit of N3.68bn, a 55.25% drop from the N8.23bn it posted in 2021.
Administrative Expenses: The company's administrative expenses went up by 7.54% to N5.11bn from N4.76bn spent in 2021. Of the administrative expense, Caverton spent N1.30bn (2021: N1.70) on its employees.
Finance Costs: Caverton paid N3.22bn (2021: N1.93bn) interest on debts and borrowings, and also paid N2.04bn (2021: N3.91bn) interest on lease liabilities.
Loss before tax: Caverton reported a loss before tax of N5.26bn, 9.92% higher loss than the N5.84bn it reported in 2021.
Loss after tax: It reported a loss after tax of N5.16bn, 18.93% more than the N4.34bn loss it reported in 2021.
Analysis of Statement of Financial Position
Total Assets: The company's assets declined by 6.70% to N74.45bn, from the N79.79bn it held as at 31st December, 2021. Trade and other receivables and property,, plant and equipment were the major components of the company's asset with N24.00bn (31 Dec. 2021: N24.02bn) and N18.72bn (31 Dec. 2021: N26.41bn) respectively.
Total Liabilities: The totally liabilities remained almost the same, it held N62.49bn as at 31 Dec. 2021 and held N62.31bn as at 31 Dec. 2022. Trade ad other payables, current borrowings, and non-current borrowings accounted for a significant portion of the liabilities with N18.20bn, N17.34bn and N14.69bn respectively.
Shareholder's fund: The shareholder's fund dropped by 29.82% from N17.30bn to N12.14bn. The retained earnings, the major component of the Shareholder's fund dropped by 57.92% from N8.85bn to N3.72bn.
Analysis of Statement of Cash Flow
Operating activities: Caverton generated N116.50mn from operations (N4.94bn was generated in the preceding period).
Investing activities: Net cash of N3.40bn (2021: N1.03bn) was generated from investing activities, as a result of the disposal of property, plant & equipment without an investment in same as was done in the preceding period.
Financing activities: N7.72bn was used in financing activities as the company spent N12.06bn repaying the principal portion of borrowings.
Going Concern: The directors confirmed in the report that nothing has come to their attention to indicate that the company will not remain a going concern for at least twelve months from the date of this financial statement.
About the company
Caverton Offshore Support Group Plc (the Company or the parent) is a limited liabilities company incorporated and domiciled in Nigeria. The
registered office is located at 1, Prince Kayode Akingbade Close, Off Muri Okunola Street, Victoria Island, Lagos, Nigeria.The Group is principally
engaged in the provision of offshore services to the oil and gas industry, harbour and general marine operations; and the provision of charter,
shuttle and maintenance services of helicopters and airplanes to third parties. Information on the structure and other related party
relationships of the Group.
Caverton has 3.35bn outstanding shares being held by 3,273 individuals and institutions.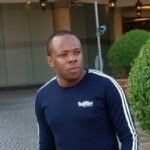 Nnamdi Maduakor is a Writer, Investor and Entrepreneur