Caverton Offshore Support Group Plc, on Monday released its unaudited consolidated financial statements for the period ended 31 March 2020, to the Nigeria Stock Exchange (NSE) and the investing public. Caverton's revenue and profit for the period dropped for the quarter in review.
The company posted a 5.48% decline in revenue to N7.883 billion from N8.340 billion recorded in the same period in 2019.
Despite the drop in revenue, operating expenses grew by 18.56% to N5.66 billion in Q1 2020 from N4.77 billion recorded in the same period in 2019.
However, the company's administrative expenses dropped by 31.82% to N1.31 billion from N1.93 billion in Q1 2019.
Caverton's profit after tax dipped by 46.1% to N427.46 million from N793.07 million recorded in the same period in 2019.
Following the slump in profit, the company's earnings per share dropped to N0.13 from N0.24.
Balance Sheet
Caverton group presented posted a slight increase in total asset to N66.45 from N65.84 billion as at the end of 2019 accounting year.
The company's "trades and other receivables remained high at N11.27 billion
The equity section of the balance sheet poised strong with a N13.38 billion retained earnings, slightly up from N12.96 billion at the end of 2019. Total liability also rose a bit to N44.58 billion from N44.39 billion.
The two major components of the company's total liability are the "trade and other payables" which stands at N15.93 billion up from NN14.601 billion and "interest-bearing loans and borrowings" which declined to N14.05 billion from N15.09 billion.
In the companys cash flow statement, the cash and cash equivalent declined to N1.59 billion from N4.50 billion. Caverton recorded negative cash flows in the investing and financing activities.
The cash flow from the operating activities remained positive, although it suffered a huge drop to N2.74 billion from N5.62 billion in Q1 2019.
The current share price of Caverton is N1.98 per share with a 52 week high and low price of N2.99 and N1.82 per share respectively.
The company paid a final dividend of 20 kobo per 50 kobo ordinary share for the year ended 31 December 2019.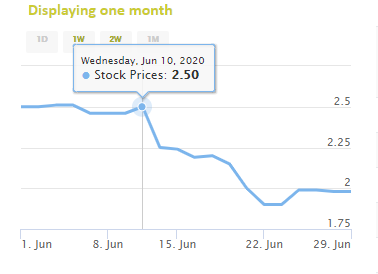 Data Source; NSE – One month price movement of Caverton share price.
Commenting on the financial report, the company's Chief Executive Officer, Mr. Bode Makanjuola stated that " coming off the back of a good year end, we were looking forward to the next decade with immense optimism.
"Our maintenance, repair and overall facility was due for completion and we were to take delivery of the first ever helicopter flight simulator in Sub Saharan Africa. We also anticipated good fortunes for our marine business as we had been pre-qualified for a number of contracts.
"Unfortunately, the Coronavirus pandemic sweeping across the globe has turned 2020 to an annus horribilis, which has seen project dates pushed back and potential contraction and indefinite suspension of some contracts.
"As we all come to terms with the unprecedented effects of the pandemic and its negative impact on our economy, financial prudence is our watchword.
"We are mindful these are extremely challenging times but we remain resolute to maintaining the same level of service our clients are accustomed to whilst preserving shareholder value"
Written by;
Ifunanya Ikueze