Analysts at Standard Chartered Bank has forecasted that the world's top cryptocurrency, Bitcoin, has the potential to hit US$100,000 per token by the end of 2024.
Also read; VACANCY: SPIE Services Nigeria Limited is recruiting into several positions
In a report published on Monday, the UK banking giant stated that the banking-sector crisis which saw the collapse of Silicon Valley Bank and other mid-tier U.S lenders has partially helped "re-establish Bitcoin's use as a decentralized scarce digital asset."
"We see potential for Bitcoin (BTC) to reach the USD 100,000 level by end-2024, as we believe the much-touted 'crypto winter' is finally over," Standard Chartered analyst Geoff Kendrick said in the report, titled "Bitcoin — Pathway to the USD 100,000 level."

"The current stress in the traditional banking sector is highly conducive to BTC outperformance – and validates the original premise for Bitcoin as a decentralised, trustless and scarce digital asset," Kendrick added.

"Given these advantages, we think BTC's share of total digital assets market cap could move into the 50-60% range in the next few months (from around 45% currently)."
CNBC reported that proponents of bitcoin maintain the digital currency is an asset worth diversifying into in times of economic distress. As the theory goes, bitcoin has a limited supply of 21 million bitcoins, meaning it should appreciate as demand for alternative assets grows to avoid the effects of high inflation.
The price of bitcoin has jumped 65% so far this year, rising to above $30,000 in April for the first time in ten months. The gains followed a 65% plunge in 2022, when nearly $1.4 trillion was wiped off the crypto market amid bankruptcies in the sector. Major crypto exchange FTX and blockchain payment platform Terra crashed, prompting growing regulatory scrutiny on digital assets.
In 2022, Standard Chartered had predicted that the price of Bitcoin could tumble as low as US$5,000 in 2023.
Economists have been divided in their predictions on the cryptocurrency's future, with one Citi analyst suggesting in November 2020 that bitcoin could climb as high as $318,000 by the end of 2022. Others, like crypto-skeptic Peter Schiff, have been warning that there is no value in cryptocurrencies and investors should sell their digital assets before they become worthless.
Bitcoin is trading at US$28,425.25 (+3.62%) on Coindesk, as the time of this report on Wednesday, 7.19am (GMT +1).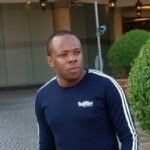 Nnamdi Maduakor is a Writer, Investor and Entrepreneur