Russia has deployed its Kinzhal missiles for the first time since it invaded Ukraine. The state-of-the-art Kinzhal hypersonic missile was used to destroy an arms depot near the city of Ivano-Frankivsk in Western Ukraine, according to the Russian Military.
Russian Defense Ministry spokesman Igor Konashenkov said the strike with the air-launched missile system took place on Friday.
Russia's Kh-47M2 Kinzhal missile is a nuclear-capable hypersonic aero-ballistic air-to-ground missile.
Read also; Airport workers in Italy protest over Humanitarian flights for Ukraine loaded with weapons
Moscow claims the 'Kinzhal'- or Dagger – is 'unstoppable' by current Western weapons. The missile, which has a range of 1,250 miles.
Those munitions are said to be able to penetrate any existing air defenses by traveling at a whopping speed of up to Mach 10 and constantly maneuvering during their flight.
Kinzhal missiles are carried by MiG-31K supersonic interceptor aircraft, which NATO calls 'Foxhound'.
The hardware is one of several hypersonic systems prepared for the country's military in recent years, together with the Avangard glider, which is fitted on silo-based ICBMs, and Zircon (Tsirkon) missiles, developed for the navy.
'The Kinzhal aviation missile system with hypersonic aeroballistic missiles destroyed a large underground warehouse containing missiles and aviation ammunition in the village of Deliatyn in the Ivano-Frankivsk region', the Russian defence ministry said on  Saturday.
Deliatyn, a picturesque village in the foothills of the picturesque Carpathian mountains, is located outside the city of Ivano-Frankivsk. The region of Ivano-Frankivsk shares a 30-mile long border with NATO member Romania.
Russian Maj. Gen. Igor Konashenkov also said that the Russian forces used the anti-ship missile system Bastion to strike Ukrainian military facilities near the Black Sea port of Odesa.
Ukraine defence officials are yet to comment on the Russian claims.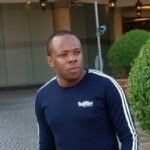 Nnamdi Maduakor is a Writer, Investor and Entrepreneur