G7 countries have dismissed Russian President Vladimir Putin's demand for "unfriendly" countries to pay for gas in rubles, Russia's own currency.
Germany Economy Minister Robert Habeck made the statement on Monday. Germany, which currently holds the G7 presidency, said the demand by Russia's President Vladimir Putin was "a unilateral and clear breach of the existing agreements."
"All G7 ministers agreed completely that this [would be] a one-sided and clear breach of the existing contracts," Habeck told journalists on Monday.

"Payment in rubles is not acceptable and… we call on the companies concerned not to comply with Putin's demand."
On Monday, Putin ordered the government, the central bank, and Gazprombank to develop the necessary tools to switch all payments for Russian natural gas from "unfriendly states" to rubles from March 31.
Read also; Georgian Politicians reject calls to go to war with Russia to relief Ukraine
This includes countries that have targeted Russia's financial system and seized its foreign reserves in response to the crisis in Ukraine.
On their part, Russia has said that it won't "supply gas for free." When asked by Reporters if Russia could cut natural gas supplies to European customers if they reject the demand, Kremlin spokesman Dimitry Peskov said;
"We clearly aren't going to supply gas for free.

"In our situation, it's hardly possible and feasible to engage in charity for Europe."
Russia will take decisions in due course should European countries refuse to pay in the Russian currency, he said before Habeck's statement.
Russian news agency RIA quoted Russian lawmaker Ivan Abramov as saying a refusal by the G7 to pay for Russian gas in rubles would lead to an unequivocal halt in supplies.
EU countries had earlier expressed their confusion with the Russian demand, and it was followed by similar expression by Japan, a fellow G7 country.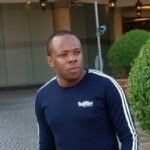 Nnamdi Maduakor is a Writer, Investor and Entrepreneur