The equities market slipped back into the negative territory on Thursday, eroding the gains booked in Wednesday's trading session.
The benchmark All-Share Index fell 1bp to 37,866.90 while the market capitalization declined by N2.9bn to N19.7tn.
C&I Leasing Plc notified Bonds Trading License Holders that N10bn 7 years 15.5% Senior Secured Fixed Rate Bonds due 2028 under the C&L Leasing Plc's N20 Billion Bond Issuance progamme were on Thursday 15 July 2021 listed on the Nigerian Exchange Limited.
Activity Level
The activity level waned on the day as both volume and value of traded stocks declined.
The volume of shares traded fell by 18.9% from the volume traded on Wednesday, closing the day wit 159.99 million units.
Shares worth N927.85 million was traded on Thursday in 3,038 deals, this is 56.6% lower than the value traded on Wednesday.
SOVRENIN shares was the most traded by volume with 14.94 million shares, followed by FIDELITYBK with 13.48 million and WAPIC with 11.95 million shares.
The shares of MTNN were the most traded by value, with shares worth N145.48 million exchanging hands in 80 deals.
The shares of ZENITHBANK and NB were the second and third most traded shares by value with shares worth N86.09 million and N71.95 million respectively.
Performance of Indices under our watch
The performance of the five indices under our watch are as below;
Oil & Gas Index: +0.8%
Banking Index: +0.7%
Insurance Index: +0.3%
Industrial Goods Index: +0.03%
Consumer Goods Index: -0.7%
Investor Sentiment
Investor sentiment as measured by market breadth (gainers/losers ratio) weakened to 1.2x from 1.5x recorded in last trading session as 18 stocks advanced while 15 stocks declined.
Top Gainers:
SOVRENINS gained 10.00% to close at N0.33
FTNCOCOA gained 9.76% to close at N0.45
CWG gained 9.65% to close at N1.25
AIICO gained 9.52% to close at N1.15
REDSTAREX gained 8.04% to close at N3.36
Top Losers:
IKEJAHOTEL lost 9.29% to close at N1.27
UPDC lost 9.09% to close at N1.30
WAPIC lost 8.47% to close at N0.54
UPL lost 7.24% to close at N1.41
UNITYBNK lost 6.35% t close at N0.59
Outlook
We expect the financial reports for the H1 period to dictate the direction of the market in coming trading sessions.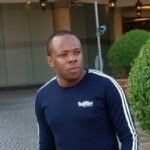 Nnamdi Maduakor is a Writer, Investor and Entrepreneur