Since the Russian invasion of Ukraine on 24 February 2022, The United States of America has deployed over 12,000 soldiers in Europe to support NATO.
The 100 man crew of the Patriot Missile system heading to Slovakia will be the latest military units to be stationed there.
Also read; USA eases sanctions on Russian agricultural products including Fertilizers
Of the 12,000 strong military presence, about 11,000 were deployed from the U.S, while the rest were already stationed in Europe.
Below is a list of all U.S military units in Europe, deployed to support NATO following Russia's invasion, according to MilitaryTimes.
4,700 soldiers from the 82nd Airborne Division to Poland.
300 soldiers from the XVIII Airborne Corps to Germany.
1,000 soldiers from the 2nd Cavalry Regiment to Romania.
800 soldiers from the 173rd Airborne Brigade Combat Team to Latvia.
100 F-35 Lightning II aircrew and maintainers to Estonia, Lithuania and Romania.
100 AH-64 Apache aircrew and maintainers to Poland and the Baltic states.
3,800 soldiers from 1st Armored Brigade Combat Team, 3rd Infantry Division, and its sustainment unit to Germany.
180 soldiers with two Patriot batteries to Poland.
150 airmen from a KC-135 Stratotanker squadron to Spangdahlem, Germany.
40 members of an Army air support operations unit to Romania and Poland.
300 ordnance and maintenance soldiers to Germany.
300 members of the Army's V Corps to Germany and Poland.
240 EA-18G Growler air crew and maintainers to Spangdahlem, Germany.
200 Marines from an air traffic control unit to Lithuania.
200 Marine C-130 Hercules and F/A-18 Hornet air crew and maintainers to Eastern Europe.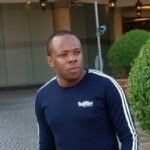 Nnamdi Maduakor is a Writer, Investor and Entrepreneur