The Nigerian Exchange's benchmark index, the All-Share Index started the last week on April on a positive note, advancing by 0.04% to close at 39,318.52 points.
With low Cap. stocks leading the gainers chart, mild price appreciations in WAPCO (Lafarge Africa) and Nigeria  Breweries Plc (NB) helped the index to a positive close. The Year-To-Date loss improved to -2.4%, as the market capitalization increased by N9.6bn to close at N20.6tn.
Activity Level
Activity level was mixed as volume of shares traded rose by 14.9% to 329.7 million, while the value of traded shares declined by 32.3% to N2.1bn, reflecting the interests on low capitalized stocks in the day's trading session.
Shares of TRANSCORP was the most traded by volume, with 92.5 million shares valued at N81.2mn exchanging hands in 196 deals. FBNH and MANSARD were the second and third most traded stocks by volume with 23.8 million and 20.0 million units of shares exchanging hands respectively.
GUARANTY, ZENITHBANK and FBNH were the first, second and third most traded stocks by value, with shares worth N513.5 million, 315.4 million and N177.3 million respectively being traded.
Index Performance
Performance of indices under our watch was mixed as 2 gained, while 3 declined;
Insurance Index: The index appreciated by 2.2% on the back of gains in AIICO (1.6%) and LINKASSURE (10.0%)
Industrial Goods Index: With DANGCEM and BUA closing flat, 1.1% gain in Industrial heavyweight stock WAPCO was sufficient to nudge the index up by 0.1%
Consumer Goods Index: DNAGSUGAR (-2.8%) and HONYFLOUR (-3.6%) pushed the index to a 0.01% decline
Banking Index: Loses in ZENITHBANK (-0.5%) and STERLINBANK (-0.6%) contributed to a 0.07% decline of the Banking Index
 Oil & Gas Index: The Oil & Gas Index suffered the biggest decline on the day, dropping 0.34% of its value, thanks to loses in CONOIL (-9.3%) and OANDO (-1.4%)
Investor Sentiment
Investor sentiment as measured by market breadth (gainers/losers ratio) strengthened to 1.5x from the 1.1x recorded in the previous session as 25 stocks advanced against 17 decliners.
TRANSCORP and LINKASSURE occupied the top gainers table, appreciating by the maximum 10.00% allowable in a day's trading session. CORNERSTONE (9.62%), FIDSON (9.09%) and UNITYBANK (8.47%) occupied the third, fourth and fifth spot in the top gainers table.
CONOIL (-9.33%) was the top loser on the day, followed by IKEJAHOTEL (-9.09%), SOVERINS (-8.00%), NAHCO (-6.67%) and JAIZBANK (-4.76%) occupied the other four positions in the top five losers table in the same order.
High Flyers
TRANSCORP is our highflyer stock to watch in the week, on Friday the company released its first quarter financial statements for 2021, with an incredible 2,426% growth in Profit After Tax. It was bound to become a toast of Investors, and it jumped to the top of the gainers table on the back of high demand. We expect this trend to continue until atleast the later trading sessions of the week.
LINKASSURE has been on an impressive run since the beginning of the year, jumping from N0.52 per share it started the year at to N0.88 at the end of trading on Monday, poised to cross the N0.90 high mark it set in January. YTD, the share price is up by 53.85%.
High Spread Stocks – Day Traders delight
For day traders, stocks with good spreads are a delight. On Monday's trading session, PZ and UBN made the best returns for those that maximized its spread.
According to Investopedia, the spread is the gap between the bid and the ask prices of a security or asset, like a stock, bond or commodity. This is known as a bid-ask spread.
PZ plc shares had a spread on N0.40 on the day. It opened at N5.45, recorded a low price of N5.00 and a high price of N5.40. It went on to close at the high price, losing less than 1% of its value.
UBN (Union Bank of Nigeria) had a spread of N0.40 on Monday. The stock opened the day at N5.00, recorded a low price of N4.50 and a high price of N4.90, and finally closed at N4.90. It suffered a price decline of 2.00%.
A day trader that got into any of these stocks at their low prices and cashed out at their high prices would have booked gains of 8% and 8.8% respectively.
Analysts Outlook
We expect the week to be dominated by mixed performances, as the dividend season continues to play out, with Investors reshuffling their portfolios.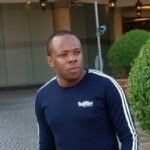 Nnamdi Maduakor is a Writer, Investor and Entrepreneur