(Greenwich Merchant Bank): The equities market commenced the week in red, with the NSE-ASI declining by 0.08%, and the YtD return pegged at -0.3%.
Price depreciations across tickers like WAPCO (-8.0%), FIDELITY (-3.2%) and UCAP (-5.5%) gave rise to the drop in the index.
In contrast, activity level was uneven, as the volume of units traded plunged 93.4%, whereas the value of units traded advanced by 23.0%. The most traded stock in terms of volume was FBNH with 57.6mn (19.9%) units, while GUARANTY topped market turnover with NGN820.5mn (23.0%).
At a market breadth of 0.76x, investors' sentiment weakened with nineteen (19) gainers and twenty-five (25) laggards. On the other hand, the performance across the NSE sectors was mixed, with a slightly bearish tilt.
While the Banking (+0.2%) and Oil & Gas (+0.1%) sectors inched up, the Industrial Goods (-0.6%), Consumer Goods (-0.1%), and Insurance (-0.1%) sectors posted negative returns.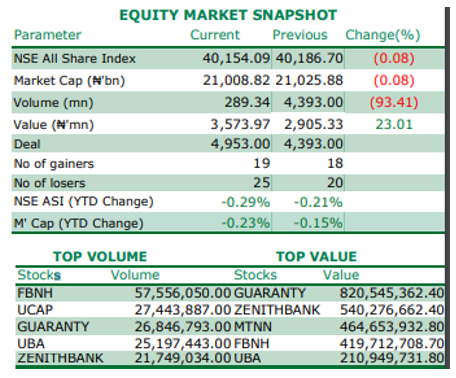 Top gainers and losers
Despite some buying activities in Banking stocks, selloffs on other heavy counters outpaced the gains. Thus, we anticipate that the corporate earnings result of heavy weights will spur positive traction towards the local bourse in subsequent sessions.