Trading on the floor of the Nigerian Exchange Limited on the first day of the week ended in negative territory. The local bourse saw its bench mark index; the All-Share Index points drop by 0.09% to close at 43,270.94 points.
Investor's wealth dropped by the same percentage, shading N19.49 billion to settle at N22.57 trillion.
Year-to-Date, the NGX equities market has advanced by 7.45%, while Investor's wealth has grown by N1.52 trillion.
High flying stock, AIICO saw a moderation of its momentum as the share price stopped 1 kobo shy of achieving the maximum possible gain on the day.
Aiico Insurance share price closed at 76 Kobo, a Kobo away from 77 Kobo that would have been its maximum possible gain on the day.
The share price was recalculated to 54 Kobo on 24th Nov. The recalculation was to account for the bonus shares given to Shareholders.
Activity level
The trading activity level weakened on Monday, as both volume and value of shares traded decreased.
213.12 million shares worth N2.35 billion was traded in 4,105 deals. This represents a 30.20% decline in volume, 34.05% decline in value and 7.75% decline in value of shares traded when compared to Friday's figures.
FCMB, AIICO and ZENITHBANK Shares were the most traded by volume, with 58.45mn, 13.50mn, and 12.77mn shares respectively.
Shares of AIRTELAFRI, GTCO and ZENITHBANK were the top three most traded by value. Shares worth N679.78mn, N309.67mn and N308.69mn  of AIRTELAFRI, GTCO and ZENITHBANK respectively were exchanged.
Performance of Indices under our watch
The performance of the five indices under our watch are as below;
Consumer Goods Index: -0.23% (548.33 Points)
Industrial Goods Index: -0.01% (2193.80 Points)
Oil & Gas Index: -0.56% (362.81 Points)
Banking Index: -0.18% (389.78 Points)
Insurance Index: +0.82% (184.59 Points)
Investor Sentiment
Investors sentiment as measured by market breadth (advance/decline ratio) weakened further to 0.7x lower than the 0.8x recorded on Wednesday, as 14 stocks gained while 21 stocks also lost.
Top Gainers:
AIICO gained 8.57% to close at N0.76
LIVINGTRUST gained 7.95% to close at N0.95
VERITASKAP gained 4.76% to close at N0.22
ABCTRANS gained 3.03% to close at N0.34
COURTVILLE gained 2.56% to close at N0.40
Top Losers:
UPDC lost 9.92% to close at N1.18
UPDCREIT lost 9.90% to close at N4.55
CHIPLC lost 7.27% to close at N0.51
REGALINS lost 4.76% to close at N0.40
WAPIC lost 4.00% to close at N0.48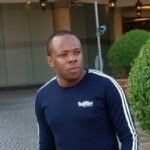 Nnamdi Maduakor is a Writer, Investor and Entrepreneur