Ethiopian Airlines has confirmed that Boeing 737 Max airplanes in its fleet will return to the skies in the first week of February.
This is coming over one year since the US Federal Aviation Administration (FAA) approved Boeing 737 Max to return to commercial service.
In an email to customers sighted by Investogist, Ethiopian Airlines said that following months of rigorous monitoring and painstaking preparations, the company is set to return the B737 Max back to the skies.
The email read;
Following months of rigorous monitoring and painstaking preparation, we are pleased to inform you that we set to return the B737 MAX back to the skies in the first week of February.

As you may be aware of, the B737 MAX has undergone design modification work and rigorous recertification process which lasted for over 20 months. Accordingly, the American Federal Aviation Administration (FAA), European Union Aviation Safety Agency (EASA), the Civil Aviation Administration of China (CAAC), Transport Canada, the Ethiopian Civil Aviation Authority (ECAA) and other authorities have recertified the fleet type for commercial service.

As a safety-first airline, we had promised that we would be among the last carriers to return this aircraft breed to the skies. So far, 36 airlines have returned the B737 MAX to commercial service, with over 329,911 revenue flights and more than 820,040 total flight hours.

Throughout the recertification process, we have been closely monitoring the design modification work and the entire process, and we have made sure that our pilots, engineers, aircraft technicians and cabin crew are confident about the safety of the fleet type. We are fully prepared to take the B737 MAX back to skies!

Once again, we would like to assure you that your safety will always remain our top priority!
The 737 Max, which was the best-selling jet in Boeing's fleet has been grounded worldwide in March 2019 after two fatal crashes in Indonesia and Ethiopia, killing 346 people.
A Boeing 737 Max operated by Ethiopian Airlines crash at 08:44 local time, six minutes after the months-old plane took off from Addis Ababa to Nairobi.
All 149 passengers and eight crew members on the flight ET302 died in the crash.
In October 2018, Indonesia's Lion Air reported that its Flight JT 610 headed for the western city of Pangkal Pinang went down after taking off from Jakarta.
The Boeing 737 Max plane crashed into the sea killing all 189 people on board.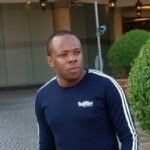 Nnamdi Maduakor is a Writer, Investor and Entrepreneur