Russian Chelsea FC owner, Roman Abramovich has been sanctioned by the Government of the United Kingdom. The UK government released a 42-page document in which the 55-year-old was the second name on a list of persons and entities sanctioned with their assets frozen on British shores.
Chelsea Football Club is among the assets frozen as part of the sanctions against Mr Abramovich and its sale has now been stalled.
In the wake of the Russian invasion of Ukraine, Abramovich handed over the club to its trustees, and proceeded to confirm he would sell the outfit he has owned since 2003.
In July 2003, Bates sold Chelsea to the Russian oligarch for £140 million. Reports say that the Russian has been asking for a price between £3-4 Billion, but that he may be willing to listen to lower offers for a quick sale given the likelihood of impending sanctions which have now come to fruition.
Here are some impacts of the sanctions on Chelsea FC;
Selling the Club: With the sanctions in place, Abramovich can only sell the club if the UK government approves it, and if he personally does not benefit financially in any way.
Abramovich previously pledged to donate any net proceeds from the deal to "all victims" of the conflict in Ukraine.
Playing matches: To play its fixtures, Chelsea has been granted a "special license" which expires on May 31 2022. This license can vary or be revoked or suspended at any moment.
Selling Match Tickets and club merchandise: As the sanction is meant to prevent Abramovich from generating any capital in the UK, and with his 100% ownership of Chelsea, the club can no longer sell tickets or merchandise.
Fans with season tickets however can still make any outstanding payments due for the rest of the season.
Cost has been capped at £500,000.00 per match for Security, stewarding and catering outlay, while just £20,000 can be set aside for travel expenses when playing away from home in the Champions League and domestically on the road in the Premier League and FA Cup.
Players and Staff Salaries: The special license means Chelsea can continue paying their players and staff, with a potential breach of contract meaning lawsuits worth millions of dollars would be a likelihood otherwise.
It is unclear whether Chelsea can fill any staff vacancies, which could be problematic if existing staff choose to leave.
Transfer Market: Chelsea are now thought of as operating under a transfer embargo, which means that new permanent acquisitions and loan signings cannot be made.
Similar to their staff predicament, it is unknown whether new deals can be offered to current players, with Barcelona-linked captain Cesar Azpilicueta and center-back partner Andreas Christensen soon free agents, in addition to German international defender Antonio Rudiger.
Other sources of Income: The UK Government did not mention the impact their sanctions will have on other income at Chelsea in areas such as broadcasting and merchandise.
The Telegraph stated that TV fee payments can be made but will be frozen while the club can also not make money from the sale of merchandise. The club's official megastore at Stamford Bridge was closed in the hours after the sanctions were announced.
Chelsea's shirt sponsor "Three" has already suspended its deal with club after the sanction was announced. The telecoms company began sponsoring Chelsea at the start of last season in a deal worth around £40m per year, and its logo is prominently displayed on the club's kits, around Stamford Bridge and at the training facility in Cobham.
In a statement released on Thursday Chelsea FC stated;
By virtue of his 100 per cent ownership of Chelsea FC plc and affiliated entities, Chelsea FC would normally be subject to the same sanctions regime as Mr Abramovich. However, the UK Government has issued a general licence that permits Chelsea FC to continue certain activities.

We will fulfil our men's and women's team fixtures today against Norwich and West Ham, respectively, and intend to engage in discussions with the UK Government regarding the scope of the licence. This will include seeking permission for the licence to be amended in order to allow the Club to operate as normal as possible. We will also be seeking guidance from the UK Government on the impact of these measures on the Chelsea Foundation and its important work in our communities.

The Club will update further when it is appropriate to do so.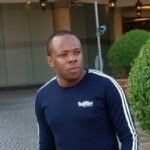 Nnamdi Maduakor is a Writer, Investor and Entrepreneur