The President of the United States, Joe Biden has announced a ban on Russian oil and gas imports. The move made known on Tuesday threatens to send global gas and oil prices even higher than they already are.
The United States at this time is standing alone on this ban, as its allies in Europe are yet to announce their participation in the ban.
The Western allies have refrained so far from imposing sanctions on Russia's energy exports amid concerns about creating shortages in the oil market. Europe is much more dependent on Russian oil than the United States.
Also read; "I've become less passionate about Ukraine's membership of NATO"- Volodymyr Zelensky
German Chancellor Olaf Scholz had stated on Monday that Germany was not on board with banning imports of oil and gas from Russia. "Currently, there is no other way to secure Europe's supply of energy for heat generation, mobility, power supply, and industry," Scholz said.
It is therefore our conscious decision to continue doing business with Russian energy," the German Chancellor said on Monday.
A source that spoke to Bloomberg anonymously said the ban is also on coal and Liquefied Natural Gas (LNG).
Today, I'm announcing that the United States is targeting a main artery of Russia's economy.

We are banning all imports of Russian oil and gas.

— President Biden (@POTUS) March 8, 2022
Biden warned oil and gas companies against jacking up prices unnecessarily, declaring that while "Putin's war against Ukraine is causing gas prices to rise…it's no excuse to exercise excessive price increases or padding profits or any kind of effort to exploit the situation or American consumers."
This decision today is not without costs here at home. Putin's war is already hurting American families at the pump — and this will drive up costs further.

So, I will take every step we can to minimize Putin's price hike here at home.

— President Biden (@POTUS) March 8, 2022
The President went further to say in his Tweet, "In coordination with our partners, we have already announced a collective release of 60 million barrels of oil from our Strategic Petroleum Reserves – half of that from the United States." A step being taken to ensure a reliable supply of global energy.
The United States imports around 500,000 bpd of Russian crude and products, a mere 5-7% of its daily consumption, and can therefore afford to ban imports from Russia without severe consequences.
Senator Chris Coons (D-Delaware) ahead of the announcement, told CNN that the price of oil could very well double to $300 per barrel, with gas prices more than tripling to $10-$14 per gallon. The argued that Americans will have to pay for "the cost of standing up for freedom" in the coming weeks as the sanctions send energy prices soaring worldwide.
The senator also admitted the White House has been in negotiations with its once-sworn enemies in Venezuela and Iran, two major oil producers Washington is suddenly seeing in a new light for their potential to bail out countries soon to be running on empty in the absence of Russian energy supplies, but argued the focus should be on Canada first. However, he acknowledged Putin "had Western Europe over a barrel" – literally and figuratively – regarding the highly sought-after commodities.
Americans on the other hand seem willing to pay more at the pump in order to stick it to Putin, Russian Today reported.
A Quinnipiac survey conducted over the weekend, which found 71% of Americans supported a ban on Russian oil even if it led to higher gas prices. More than half of respondents (56%) even suggested the US hadn't gone far enough with its sanctions and called for tougher moves.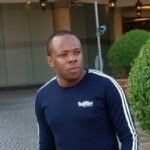 Nnamdi Maduakor is a Writer, Investor and Entrepreneur