The Israeli Defense Minister Benny Gantz has given light to call up some 25,000 military reservists, if required. The approval confirmed by the Office of the Defense Minister comes as Israel goes on a state of high alert after Palestinian militants promised revenge for the killing of one of their top commanders in an Israeli airstrike.
The reservist if called up, will assist in military operation efforts against Islamic Jihad in the Gaza Strip, codenamed Breaking Dawn.
Israel in the afternoon hours assassinated a military leader of the Islamic Jihad in Gaza after days of tensions following the arrest of another senior militant belonging to the terror group in the West Bank.
Also read; Soldiers beat Police Officer to death in Lagos State, Army says investigation ongoing
The military launched a strike on a building in Gaza City, killing 10 Islamic Jihad operatives, according to the IDF. The Palestinian Health Ministry confirmed the toll, saying a 5-year-old girl was among those killed. It did not say whether the others were militants or civilians.
Chief among the deceased was Islamic Jihad commander for northern Gaza, Taiseer al-Jabari, who had succeeded another militant killed in an airstrike in 2019, Baha Abu al-Ata.
Gantz' office announced the potential call-up less than an hour after Palestinian Islamic Jihad (PIJ) leader Zihad Al-Nakhala threatened to rain down missiles on the city of Tel Aviv over the "coming hours."
Al-Nakhala issued his threat after Israeli warplanes fired a missile at an apartment building in Gaza City, killing PIJ commander Taysir al-Jabari. The strikes, dubbed 'Operation Breaking Dawn' by the Israel Defense Forces (IDF), targeted an additional ten to 20 PIJ terrorists, and killed members of a "terrorist squad" who were "on their way to carry out an anti-tank missile and sniper attack," the Israeli military claimed.
Alongside al-Nakhala's threat, a 'Joint Operations Room' representing multiple other Palestinian militant groups issued a statement warning that the Israeli strikes "won't go unpunished."
Shortly after Gantz' announcement, Israeli forces renewed their assault on Gaza, Palestinian sources said. Another PIJ operative was reported killed, as IDF spokesman Ron Kochav told Israel's Channel 12 "we're in the midst of a targeted campaign against the Palestinian Islamic Jihad," and that Israel is hoping not to drag Hamas into the rapidly-escalating conflict.
The IDF meanwhile posted video footage of its troops forming up and apparently preparing for combat.
The response from PIJ came just minutes before 9pm, shortly after Al-Jabari's funeral. Rocket alert sirens rang out in most of south and center, including in Tel Aviv and Rishon Lezion, with the Iron Dome defense system intercepting most of the projectiles.
There were reports of a rocket hitting a house in the southern city of Ashkelon, but injuries were reported.
The Islamic Jihad group took responsibility for the barrage, saying it had fired more than 100 projectiles. "In an initial response to the assassination of the leader Tayseer al-Jaabari, the Jerusalem Brigades bombarded Tel Aviv and the cities in the center and around Gaza with more than 100 rockets," said a statement from the group's armed wing.
In a nationally televised speech Friday night, Prime Minister Yair Lapid said his country had launched the attacks based on "concrete threats."
"This government has a zero tolerance policy for any attempted attacks – of any kind – from Gaza towards Israeli territory," Lapid said. "Israel will not sit idly by when there are those who are trying to harm its civilians."
He also added that "Israel isn't interested in a broader conflict in Gaza, but will not shy away from one either."
In the evening hours, the IDF renewed the strikes in Gaza, targeting Islamic Jihad infrastructure, including observation posts.
The latest escalation began when Israeli forces arrested PIJ's West Bank leader, Bassem Saadi, in the city of Jenin on Monday. A Palestinian teenager was killed in the raid on Saadi's home, triggering outcry across the Palestinian territories. As the PIJ placed its fighters on high alert, Israeli officials repeatedly warned this week of impending revenge attacks.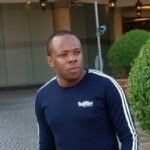 Nnamdi Maduakor is a Writer, Investor and Entrepreneur