On Wednesday, the Russian Defense Minister announced that Russia will call on 300,000 reservists to serve in the conflict with Ukraine, under a partial nationwide mobilization.
According to Shoigu, the mobilization will apply neither to university students, nor conscripts. The minister stressed that only those who have already served in the military will be called up.
"Those are not people who have never heard anything about the army. Those are those who, firstly, had completed their military service, secondly, those who have a military specialty… and have military experience," he noted.
Shoigu also stressed that Russia possesses an immense mobilization capability and could summon almost 25 million people with some military experience. "So one could say that this partial mobilization is just 1%, or a bit more" of the total number of people that could be mobilized, he added.
While making the announcement, the defense minister noted that the line of contact between Russia and Ukrainian forces is more than 1,000 km long, and that the mobilization would be used for defending it.
In recent weeks, the Ukrainian forces has been pushing back Russian military out of some areas of Ukrainian, previously occupied by them.
On Saturday 9th September, Russian military and allied forces of the People's Republics of Donetsk and Lugansk were ordered to leave the city of Izyum, which is located on the Seversky-Donets River, some 120 kilometres South-East of regional capital Kharkov. The Russians had occupied Izyum in April after heavy fighting.
Earlier on Wednesday, before the minister's announcement, Russian President Vladimir Putin announced a partial military mobilization, describing the move as sensible and necessary due to the military campaign in Ukraine.
Russia sent troops into Ukraine in February 24, 2022 in what it's President, Vladimir Putin called "Special Military Operations."
In the same month of February, it recognized Donbass Republics as independent states and demanded that Ukraine officially declare itself a neutral country tha will never join any Western military bloc, a vieled reference to NATO.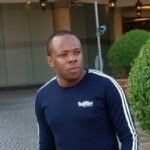 Nnamdi Maduakor is a Writer, Investor and Entrepreneur