A leaked audio recording circulating online has Presidential candidate of the Labour Party in the 2023 election, Peter Obi, purportedly seeking the assistance of Bishop David Oyedepo of Winners' chapel to win the election he tagged a "religious war."
Also read; Spain needs over 60,000 additional workers in Hospitality Industry, where to find the jobs
In the audio released by Peoples gazette and heard by Investogist, Peter Obi purportedly asked Bishop Oyedepo of Living Faith Church (Winners' Chapel) to pass messages to Christians across the South-West, and also to those in central states like Kwara, Kogi and Niger.
Peter Obi could be heard in the leaked purportedly reiterating a promise that "if this works, you people will never regret the support," to which the Bishop replied that "Amen, amen, we look forward to God's intervention…"
Peter Obi then proceeded to ask for the assistance;
"Daddy, I need you to speak to your people in the South-West and Kwara, the Christians in the South-West and Kwara," Mr Obi said in the audio obtained by The Gazette. "This is a religious war."

"I believe that, I believe that, I believe that," Mr Oyedepo said.
In a telephone conversation leaked to Peoples Gazette, Peter Obi begged Bishop David Oyedepo to help canvass Christian votes on the eve of Nigeria's presidential election.

Religion became central to the campaign after Bola Tinubu tapped a fellow Muslim running mate in a nation… pic.twitter.com/U2LmYVJ2kk

— Peoples Gazette (@GazetteNGR) April 1, 2023
Peoples gazette reported that for two days, Mr Obi did not attend to The Gazette's calls and messages to his two available telephone lines. His media aides and allies, including Akin Osuntokun, Valentine Obienyem and Mike Ifedi, all declined comments when The Gazette sent an enquiry to them with the full audio.
It went on to report that Mr Ifedi said he was trying to discuss the audio with Mr Obi for a measured response, but his message did not come in before it took a final decision to run this story.
The Foundation for Investigative Journalism (FIJ), an independent, not-for-profit organisation that combats injustice stated that it has ran an analysis of the audio and was able to establish that no AI was used in generating the voices or modifying the audio.
The Labour Party Presidential Campaign Council (PCC) has confirmed the authenticity of a viral telephone conversation between Peter Obi, its candidate, and Bishop David Oyedepo, founder of Living Faith Church.
Kenneth Okonkwo, spokesman for the PCC made the confirmation via his Twitter handle, stating that "these political criminals are trying to spin the conversation as if Obi was making a religious statement."
He went further to write the context of the conversation was aptly put by Bishop Oyedepo when he said "All Nigerians have equal stake in this nation, nobody has the right to claim that he is dashing something to someone."
Just listen carefully:https://t.co/hu8cb6VoWX
Our attention has been drawn to the publication of this audio tape of private conversation between @PeterObi and Bishop Oyedepo. It is not surprising that these political criminals are trying to spin the conversation as if Obi was… pic.twitter.com/9lfOdtVy9J

— Kenneth Okonkwo (@realkenokonkwo) April 1, 2023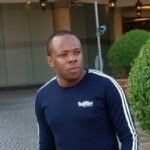 Nnamdi Maduakor is a Writer, Investor and Entrepreneur