The UK Supreme Court on Friday ruled that Royal Dutch can be sued by Bille community and the Ogale people of Ogoniland in English courts. The decision is a victory for the communities after a five-year battle, and overturns a Court of Appeal ruling.
In responding to the case brought by 42,500 Nigerian farmers and fishermen, Seniors Judges said UK-domiciled Shell, one of the world's biggest energy companies, did have a common law duty of care, in the latest case to test whether multinationals can be held to account for the acts of overseas subsidiaries.
Royal Dutch Shell, responsible for about 50% of Nigeria's delta oil production does not dispute that pollution had been caused, but argued it could not be held legally responsible for its Nigerian subsidiary.
Last year the Court of Appeal agreed with the company, but the Supreme Court said on Friday that that decision was flawed.
The communities, represented by law firm Leigh Day, argued Shell owed a common law duty of care to individuals who had suffered serious harm as a result of the systemic health, safety and environmental failings of one of its overseas subsidiaries.
Despite years of promises by successive governments in Nigeria, the issue of pollution in the Niger Delta region has only worsened.
In 2011 the UN concluded it would take 30 years to clear up the vast amounts of pollution in the Niger Delta.
The Ogale community of about 40,000 people are mostly fishermen or farmers who rely on Ogoniland's waterways. But pollution has all but destroyed fishing, turning their lush home into a toxic wasteland.
UN scientists have found an 8cm (3 inch) layer of refined oil floating on top of water that supplies the community's drinking wells – vastly higher than is legally permitted.
In a statement Shell said: "The spills at issue happened in communities that are heavily impacted by oil theft, illegal oil refining, and the sabotage of pipelines."
It said that, despite the causes of the pollution, its subsidiary had worked hard to both clean up and prevent spills.
It's the latest in a run of international and domestic law suits over Shell's oil extraction in Nigeria.
In 2006 a Nigerian court ordered the company and partners to pay $1.5bn to the Ijaw people of Bayelsa state for environmental degradation in the area.
In an ongoing civil case, the widows of four environmental activists executed by Nigeria's military regime in 1995 are suing Shell for allegedly providing support to the military. Shell denies the claims
Leigh Day also represented 2,500 Zambian villagers in their pollution case against UK-based mining giant Vedanta Resources. Last month the Supreme Court ruled in their favour and they won an undisclosed settlement.
As courts in western countries continue to rule the multinational companies domiciled in western nations are responsible for pollution and other ills their subsidiaries in Africa perpetuate, it shows that finally irresponsible deeds of these companies are beginning to be illuminated.
However, one cannot help but be wary of the fact that as the past deeds of western multinationals get settled, a much bigger darkness is being cast by the new players on the continent; the Chinese.
The Chinese companies have been accused of multiple offences, from pollution to horrible labour conditions, from abuse of local host communities to rampant corruption and many more.
Can Nigerians, Zambians, Congolese or any African community sue Chinese companies in a Chinese court?
I believe the resounding answer to that question is NO.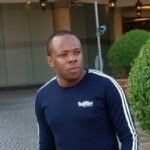 Nnamdi Maduakor is a Writer, Investor and Entrepreneur