Norther Nigeria Flour Mills Plc (NGX: NNFM) has announced a final dividend of 25 kobo for every share of 50k held for the financial year ended 31st March 2022.
The announcement is contained in a corporate action released by the company on Friday. The final dividend will be subject to appropriate withholding tax and approval.
Qualification date for the dividend is 23rd August, 2022. On 9th September 2022, dividends will be paid electronically to shareholders whose names appear on the Register of Members as at 23rd August, 2022 and who have completed the e-dividend registration and mandated the Registrar to pay their dividends directly into their Bank accounts.
Also read; Flour Mills of Nigeria Plc announces N2.15 final dividend
Shareholders with dividend warrants and share certificates that have remained unclaimed, or are yet to be presented for payment or returned for validation are advised to complete the e-dividend registration or contact the Register; Atlas Registrars Limited.
At the end of trading on the flour of the NGX on Friday, the share price of NNFM closed at N10.60. This puts the dividend yield of the company as per the declared dividend at 2.35%.
About Northern Nigeria Flour Mills
Northern Nigeria Flour Mills Plc was incorporated in Nigeria as a private limited liability Company on 29 October 1971. It started production four years later in November, 1975 and was officially commissioned by the Military Governor of the then Kano State (Now Kano/Jigawa), Colonel Sani Bello on the 7th of April, 1976.
The Company was converted to a public liability company in 1978 and was quoted on the Nigeria Stock Exchange in the same year.
Its registered head office is located at 15 Maimalari Road, Bompai, Kano. The Company's main business is milling of wheat, maize, sorghum and other associated grains and sales of the milled products in the form of flour.
Flour Mills of Nigeria is the parent company of NNFM as it owns 53.06% of the company's shares. Northern Nigeria Investment Limited owns 7.27%, while Dantata Investments & Securities Limited owns 6.54%. The rest of the shares are owned by individuals and institutions.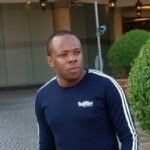 Nnamdi Maduakor is a Writer, Investor and Entrepreneur