Trading on the floor of The Nigerian Exchange Equities market started the week on a positive note. Monday's positive performance was led by MTNN, on the back on its H1 2021 report, where it posted a 49.5% growth in profit.
The local burse's benchmark index; All-Share Index advanced by 0.15% to close at 38,604.72 points, consequently improving YTD's loss to -4.1%. The market capitalization rose by N30.0bn to N20.1tn.
Airtel Africa Plc, announced first closing relating to the Airtel Money minority investment transactions with both TPG's The Rise Fund and Mastercard, previously announced by the Group on 18 March 2021 and 1 April 2021 respectively.
Activity level
Trading activity declined as volume and value traded fell by 36.9% and 50.0% respectively to 244.3m and ₦1.9bn.
Shares of TRANSCORP was the most traded by volume with 40.26 million, followed by CILEASING and FCMB with 26.09 million and 17.71 million respectively.
In terms of value of trades shares, GTCO topped the chart with shares worth N229.51mn exchanging hands. This was followed by PRESCO and ZENITHBANK with shares worth N227.24mn and N192.81mn respectively.
GTCO, ZENITHBANK and OANDO were the most actively traded shares, with 392, 273 and 272 trade deals respectively.
Performance of Indices under our watch
The performance of the five indices under our watch are as below;
Banking Index: +0.02%
Insurance Index: -0.25%
Industrial Goods Index: -0.30%
Consumer Goods Index: -0.43%
Oil & Gas Index: -0.63%
Investor Sentiment
Investors sentiment, as measured by market breadth (advance/decline ratio), declined to 0.6x from 0.7x recorded in the last trading session as 17 stocks advanced while 25 stocks declined.
Top Gainers:
JBERGER gained 8.89% to close at N24.50
NPFMCRFBK gained 8.00% to close at N1.89
REGALINS gained 7.14% to close at N0.45
LINKASSURE gained 6.67% to close at N0.64
MBENEFIT gained 5.41% to close at N0.39
Top Losers:
ETERNA lost 10.00% to close at N6.39
NEIMETH lost 9.71% to close at N1.58
TRIPPLEG lost 9.09% to close at N0.90
DANGSUGAR lost 5.41% to close at N17.50
WAPCO lost 5.02% to close at N21.75
Outlook
We expect the financial reports for the H1 period to dictate the direction of the market in coming trading sessions.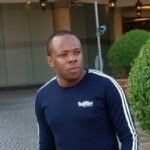 Nnamdi Maduakor is a Writer, Investor and Entrepreneur