The upbeat performance of The Nigerian Exchange continued on Thursday, just as CHAMPIONS and FBNH share prices continued to soar.
The benchmark NGX All-Share Index (ASI) added 78.79 points, moving up to 41,129.98 points at the end of trading, a 0.19% increase from Thursday's closing figures.
The market capitalization also increased by 0.19%, adding N41.205bn to Investors wealth.
Year to Date, the local bourse has advanced by 2.13%, while the market capitalization has gained by N375.47bn.
Investogist's highflyer CHAMPION continued to soar, booking another maximum gains of 9.71% on Thursday to close trading at N3.05. The share price is expected to continue rising until more clarity on the execution of a mandatory takeover by Raysun Nigeria Limited (a subsidiary of Heineken) is made known.
Read also; Nigerian Govt mandates COVID-19 vaccine for civil servants
Highflyer FBNH was also on the ascendancy, gaining 7.31% to close trading at N11.75. The rise of FBNH shares that started on 28th September when the share price closed at N7.55 has been consistent, pointing to a likely release of favourable information.
ETI on the other hand suffered a second day of setback, taking up position in the losers table.
Activity Level
The activity improved significantly, with volume and value of traded shares increasing by triple digit percentages, with the number of deals also increasing.
The volume of traded shares increased by 103.52%, from the 446.17 million units traded on Wednesday to 908.06 million units on Thursday.
The value of traded shares increased by 145.65% from N4.46bn recorded on Wednesday to N1.09trn on Thursday.
The number of deals also by 9.50% from 4,704 to 5,151 deals.
FBNH kept its positioned as the most traded shares by volume, with 602.76 million units valued at N7.11bn exchanging hands in 1026 deals.
GTCO and CHAMPION were the second and third most traded shares by volume with 63.74mn and 37.68mn units respectively.
Shares of FBNH was also the most traded by value, while GTCO with shares worth N1.81bn and SEPLAT with shares worth N655.12mn were the second and third most traded by value respectively.
Performance of Indices under our watch
The performance of the five indices under our watch are as below;
Consumer Goods Index: +0.17%
Industrial Goods Index: +0.15%
Oil & Gas Index: -0.01%
Banking Index: -0.86%
Insurance Index: -1.13%
Investor Sentiment
Investors sentiment as measured by market breadth (advance/decline ratio) remained strong at 1.5x lower than the 2.0x recorded on Wednesday, as 21 stocks gained while 14 stocks also lost.
Top Gainers:
CHAMPION gained 9.71% to close at N5.97
AFRIPRUD gained 7.81% to close at N6.90
FBNH gained 7.31% to close at N11.75
UNIVINSURE gained 4.76% to close at N0.22
CHAMS gained 4.35% to close at N0.24
Top Losers:
LEARNAFRICA lost 10.00% to close at N1.26
ETI lost 8.16% to close at N6.75
WAPIC lost 6.00% to close at N0.47
LINKASSURE lost 5.00% to close at N0.57
NEM lost 4.46% to close at N1.93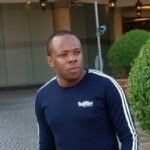 Nnamdi Maduakor is a Writer, Investor and Entrepreneur