The NGX's equity market closed flat today, despite a much improved trading activity level. The All-Share Index dropped a negligible 1.6 points to close at 39,251.29 points.
Investors' wealth saw a loss of N833.06 million, as the market capitalization settled at N20.45 trillion.
With the marginal decline in the ASI on Tuesday, it makes it a second consecutive day of decline this week. The YTD performance worsened to minus 2.53%.
United Capital Plc (NGX Ticker: UCAP) shares hit N8.10 on Tuesday, as it gained 8.00% on the day. YTD, the share price has now risen by 71.97%. Over the past two years, it has risen by 297.06%, and 162.99% over 1 year.
Read also; An Apology, a return to Kenya and N5.00 billion – Mazi Nnamdi Kanu demands in a lawsuit filed against Nigeria
By Yochaa Dividend Yield rank, UCAP is the 4th best dividend stock on the Nigerian Exchange Limited, with an average dividend yield percentage of 13.84%.
Activity Level
The activity level improved significantly on Tuesday, as both the volume and value of traded stocks increased.
The volume of traded shares increased by 68.73% to 355.93 million units, while the value of traded shares increased by 107.55% to N2.87 billion.
Shares of FBNH, ACCESS and UNIVINSURE were the three most traded shares by volume. 92.28 million shares of FBNH were traded on Tuesday, while 75.68 million and 525.23 million shares of ACCESS and UNIVINSURE respectively.
With shares worth N711.90 million exchanging hands in 450, ACCESS was the most traded shares by value. It is followed by FBNH and ZENITHBANK with shares worth N687.72 million and N346.43 million respectively.
Performance of Indices under our watch
The performance of the five indices under our watch are as below;
Oil & Gas Index: +1.00%
Consumer Goods Index: +0.52%
Industrial Goods Index: -0.00%
Banking Index: -0..31%
Insurance Index: -0.90%
Investor Sentiment
Investors sentiment as measured by market breadth (advance/decline ratio) strengthened to 1.4x against 0.8x recorded on Friday, as 21 stocks gained while 15 stocks lost.
Top Gainers:
UCAP gained 8.00% to close at N8.10
INTBREW gained 7.53% to close at N5.00
HONYFLOUR gained 6.67% to close at N4.00
OANDO gained 6.02% to close at N4.40
AFRIPRUD gained 5.79% to close at N6.40
Top Losers:
CORNERST lost 8.77% to close at N0.52
UNIVINSURE lost 4.76% to close at N0.20
ETI lost 4.55% to close at N5.25
NEM lost 4.50% to close at N1.91
UACN lost 4.09% to close at N10.55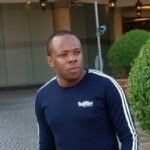 Nnamdi Maduakor is a Writer, Investor and Entrepreneur