The Nigerian Exchange Limited endured another round of lackluster performance on Tuesday, as its benchmark index; the All-Share Index closed flat at 37,857.24 points with the market capitalization standing at N19.724 trillion. The YTD loss for the All-Share Index remained unchanged at -6.0%.
WEMA Bank became the latest listed company to buck the trend of the overall market, as its share prices continue to rise, closing the day at N0.81. The bank shares have now risen from N0.55 it closed on 15th June, 2021 to N0.81 today, a 47% increase in less than one month.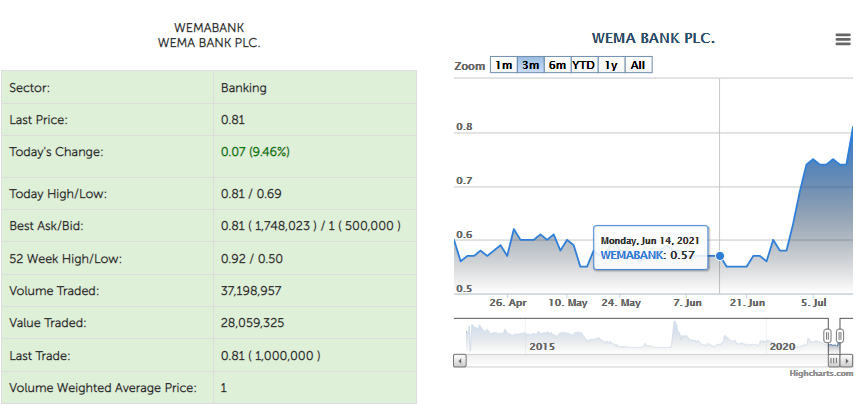 Source: mytradebook a product of GREENWICH
NCR Plc released its unaudited results for the quarter ended 30 June, 2021, reporting more than 50% decline in revenue, from N2.92 billion in the preceding period to N1.41 billion this year. By reducing the cost of sale by over 50% also the company was able to report a profit of N17.43 million, slightly lower than the N20.79 million reported last year.
Activity Level
Trading activity was mixed on the day, as the volume of traded shares saw an increase by 5.4%, while the value of the traded shares saw a decline of 33.5%.
The shares of Wema Bank Plc were the most traded by volume with 37.198 million shares exchanging hands on Tuesday, followed by the Shares of Guaranty Trust (GTCO) with 27.91 million shares and UPDC with 13.85 million shares.
GTCO shares were the most traded by value as shares worth N823.19 million exchanged hands in 310 deals. Shares of ZENITHBANK and SEPLAT were the second and third most traded by value with shares worth N158.22 million and N156.29 million respectively.
Performance of Indices under our watch
The performance of the five indices under our watch are as below;
Banking Index: +0.4%
Consumer Goods Index: +0.03%
Oil & Gas Index: 0.00%
Industrial Goods Index: 0.0%
Insurance Index: +0.00%
Investor Sentiment
Investor sentiment as measured by market breadth (gainers/losers ratio) remained unchanged at 1.2x as 16 stocks advanced while 13 stocks declined.
Top Gainers: NCR (+9.64%), WEMABANK (+9.46%), FTNCOCOA (+8.33%), NPFMCRFBK (+6.88%), LASACO (+6.67%)
Top Losers: IKEJAHOTEL (-9.09%), CUSTODIAN (-6.15%), JAPAULGOLD (-5.66%), MBENEFIT (-4.76%), FBNH (-4.00%)
Outlook
We expect the financial reports for the H1 period to dictate the direction of the market in coming trading sessions.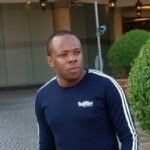 Nnamdi Maduakor is a Writer, Investor and Entrepreneur