Total Nigeria Plc (NGX: TOTAL) on Thursday released its financial statements for the first half of the year ended 30 June 2021, to the Nigerian Exchange and the investing public.
The company grew its revenue by 42% and while the profit after taxation surged by 1,601% as the company turned from loss in the same period last year to over N8 billion profit this year.
Income statement
Total Nigeria Plc's revenue rose to N151.33 billion in H1 2021 from N106.70 billion reported in the same period in 2020.
Growth was recorded in the two components of the company's revenue as shown below;
Petroleum products: N114.04 billion (N83.74 billion in 2020)
Lubricants and others: N37.29 billion (22.96 billion in 2020)
The gross profit rose to N25.50 billion from N12.40 billion in H1 2020. The administrative expenses and Selling & distribution costs stood at N13.78 billion and N1.61 billion respectively.
The profit after taxation soared to N8.07 billion in H1 2021 from a loss of N537.19 million recorded in H1 2020. Income tax of N3.71 billion was paid the company in H1 2021.
Within the period under review the number of employees of Total Nigeria Plc declined to 436 in H1 2021 from 445 in H1 2020..
At the board of directors meeting of 19th July, 2021, an interim dividend of ₦4.00 was declared for the period ended 30th June, 2021 (2020: ₦0.00).
Read more: Total Nigeria Plc Directors propose over N1.35 billion interim dividend
The company has 339,521,837 ordinary shares of 50 kobo each. The basic earnings per share rose to N23.76 from minus N1.58 in H1 2020.
Balance sheet
The total assets rose to N186.90 billion as at 30 June 2021 from N143.61 billion as at 31 December 2020.
76.03% of the company's total assets are current assets, which rose to N142.11 billion from N96.32 billion as at 31 December 2020. On the other hand, only 23.07% of the total assets are non-current assets, which declined to N44.79 billion from N47.30 billion .
Major components of the company's assets
Trade and other receivables: N55.57 billion (N41.34 billion in 2020)
Cash and cash equivalents: N55.28 billion (N31.01 billion in 2020)
Property, plant and equipment: N34.15 billion (N36.21 billion in 2020)
Inventories: N29.48 billion (N21.62 billion in 2020).
The total liabilities of the company rose to N154.08 billion in H1 2021 from N115.46 billion in 2020. Current liabilities represents 96.35% or N148.46 billion of the total liabilities.
Major components of liabilities are
Trade and other payables: N148.46 billion (N109.82 billion in 2020)
Loans and borrowings: N33.26 billion (N32.61 billion).
Total equity rose to N32.82 billion in H1 2021 due to the increase in retained earnings to N32.65 billion from N27.98 billion in 2020.
The share price rose 10.00% at the close of trading on Thursday. Topping the gainers table with the highest possible daily gain on the Exchange, as investors sort to add the shares to their portfolio in light of the impressive performance.
About the company
The Company was incorporated as a private limited liability company in 1956 and was converted to a public company in 1978. The merger of the Company with Elf Oil Nigeria Limited which commenced globally in November 1999 was completed in Nigeria in 2002. With this development, the authorised, issued and fully paid share capital was ₦148,541,000 made up of 297,082,000 ordinary shares of 50k each. In 2003, to mark the completion of its corporate mergers, Total Group worldwide reverted to its former name Total and adopted a new logo with a unifying design to express its corporate ambition.
Accordingly, the Company changed its name from TotalFinaElf Nigeria Plc to Total Nigeria Plc in the same year. With the capitalisation of the bonus issue of 42,440,228 ordinary shares of 50k each in March 2004, the authorised share capital became ₦169,760,918 made up of 339,521,837 ordinary shares of 50k each. 61.72% of the Company's ordinary shares were held by Total Societe Anonyme up until 2013 when a restructuring was concluded and Total
Raffinage Marketing became the shareholders of 61.72% of Total Nigeria Plc while the remaining 38.28% are held by some members of the general public. Total Raffinage Marketing is now called Total Marketing Services.
The principal activity of the Company is the blending of lubricants, sales and marketing of refined petroleum products and solar products.
Total Nigeria Plc. ("the Company") is a subsidiary of Total Marketing Services ("the Parent Company") in France and operates in the petroleum marketing and distribution business in Nigeria.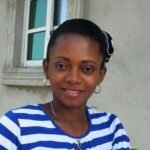 Ifunanya Ikueze is an Engineer, Safety Professional, Writer, Investor, Entrepreneur and Educator.