The Nigerian domestic equities market suffered its third day of consecutive loses this week, as the All-Share Index lost 0.11% of its value.
Today's negative performance is attributable to loses in banking stocks, like ZENITHBANK (-1.26%), ACCESS (-2.34%) and ETI (-1.94%).
At the end of trading on Wednesday, the All-Share Index stood at 37,804.46 points and Market Capitalization which saw its value lose N22.2bn stood at N19.70 trillion.
NGX Regulation Limited was notified that PSL Capital Limited, , a trading license holder has changed its name to Parthian Securities Limited.
YTD loses worsened to -6.1% at the end of trading on Wednesday.
Latest 2: Match Day 13 Euro 2020 Match Preview – Group F
Activity level
The trading activity level weakened as both volume and value of traded shares declined.
208.35 million units of shares valued at N1.60bn was traded in 3,365 deals. This represents a 4.5% decline in volume of shares and 41.2% in the value of the traded shares.
The most traded stocks by volume were ZENITHBANK, ETRANZACT and FIDELITYBK, with 33.68 million, 20.95 million and 13.67 million shares respectively.
The shares of ZENITHBANK, FLOURMILL and ACCESS was the most traded by value, as these companies saw their shares valued at N795.02mn, N106.16mn, and N75.14mn respectively being traded on Monday.
Index Performances
The performance of indices under our watch was mixed;
Consumer Goods Index advanced by 0.16%
Industrial Goods index closed flat
Oil and Gas Index declined by 0.10%
Insurance Index declined by 0.51%
Banking index declined by 0.75%
Investor Sentiment
Investor sentiment as measured by market breadth (gainers/losers ratio) weakened further to 0.5x from the 0.8x recorded in the previous session as 11 stocks advanced against 23 decliners.
Top gainers on the day were; FTNCOCOA (/+10.00%), IKEJAHOTEL (+9.89%), CORNERST (+9.80%), LINKASSURE (+9.09%), MBENEFIT (+5.26%)
Top losers were; ROYALEX (-10.00%), JAPAULGOLD (-9.80%), UPL (-9.52%), CHIPLC (-9.38%), ETRANZACT (-8.44%).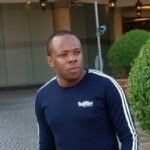 Nnamdi Maduakor is a Writer, Investor and Entrepreneur