Wednesday was another day of trading on the floor of the Nigerian Exchange in Lagos, and like Monday and Tuesday before it, it closed with the All-Share Index (ASI) stuck in negative territory.
The 0.12% drop in the benchmark ASI on Wednesday makes it a third consecutive day of loses in the current week. The All-Share Index settled at 39204.52 points, having shed 46.77 points.
The Market Capitalization also dropped by 0.12%, losing N24.36 billion to close the day at N20.42 trillion.
High flying United Capital Plc (UCAP) remained muted on Wednesday, as it gyrated up and down in the course of the day's trading and finally settled at N8.10, its exact opening price.
Shares of Regency Alliance Insurance Company Plc (NGX Ticker: REGALINS) took the flag from UCAP, as it gained 8.51% on the day to close at N0.51.
By Yochaa Dividend Yield rank, REGALINS is the 34th best dividend stock on the Nigerian Exchange Limited, with an average dividend yield percentage of 4.82%.
Read also; Stanbic IBTC directors propose N1.00 interim dividend for H1 2021 despite slump in profit
YTD , the share price of REGALINS is up by 113.64%, 155.00% up over the past 2 years and 104.35% up over the past one year.
Activity Level
The activity level was mixed on Wednesday, as the volume of shares traded decreased marginally while the value of traded shared increased.
The volume of shares traded decreased by only 0.53% to 354.06mn units when compared to the 355.94mn units of shares traded on Tuesday.
The value of traded shares increased by 11.52% to N3.20bn when compared with the N2.87bn worth of shares traded on Tuesday.
Shares of FBNH was the most traded by volume, with N86.00mn units of shares. It is followed by ACCESS and UNIVINSURE with 71.06mn and 22.32mn units of shares respectively.
ACCESS shares worth N671.34mn was exchanged in 441 deals to become the most traded shares by value.
FBNH was the second most traded share by value with N640.87mn, and GTCO was the third most traded share by value with N529.12mn.
Performance of Indices under our watch
The performance of the five indices under our watch are as below;
Oil & Gas Index: +0.55%
Industrial Goods Index: -0.00%
Consumer Goods Index: -0.08%
Banking Index: -0..32%
Insurance Index: -1.01%
Investor Sentiment
Investors sentiment as measured by market breadth (advance/decline ratio) strengthened to 1.0x against 0.7x recorded on Tuesday, as 15 stocks gained while 15 stocks lost.
Top Gainers:
REGALINS gained 8.51% to close at N0.51
UNIVINSURE gained 5.00% to close at N0.21
SOVRENINS gained 4.17% to close at N0.25
FCMB gained 3.45% to close at N3.00
OANDO gained 3.18% to close at N4.54
Top Losers:
SCOA lost 9.72% to close at N1.30
VERITASKAP lost 8.70% to close at N0.21
MANSARD lost 5.68% to close at N0.83
CHAMS lost 4.55% to close at N0.21
INTBREW lost 4.00% to close at N4.80
Corporate Actions
Lasaco Assurance Plc (NGX Ticker: LASACO) announced the appointment of Managing Director/CEO.
Sterling Bank Plc (NGX Ticker: STERLINGBANK) published its Earnings forecast for Q4 2021, with a Profit After Tax expectation of N2.98bn in Q4.
MTN Nigeria Communications Plc (NGX Ticker: MTNN) announced the renewal of its licenses.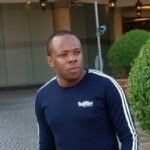 Nnamdi Maduakor is a Writer, Investor and Entrepreneur