Nigerian Aviation Handling Company Plc (NGX: NAHCO) has announced a string of new businesses and contract renewals.
In February 2022, NAHCO announced that based on its top-notch records in the Nigerian ground handling sub-sector of the aviation industry, Qatar airways has granted its handling contracts in Port Harcourt and Kano  airports to it.
Read also; Board of Fidelity Bank Plc approve 2021 FY Financial Statements and Dividend
The agreement with Qatar Airways will take effect from March 2022, and will run for another five years. NAHCO's Group Executive Director, Commercial and Business Development in announcing the deal with Qatar Airways stated;
'' We are committed to maintaining our leadership position in the ground handling business, as such, we will not relent. The support from the Board of Directors has helped in no small measure, as new Ground Support Equipment are being made available to us for ease of operations. We are therefore primed to continue our excellent service delivery to Qatar Airways''.
NAHCO Plc currently has an all-encompassing contract with the airline in Lagos and Abuja, providing passenger, cargo, and ramp handling services to Qatar Airways, which also includes the provision of crew transportation and other ancillary services to the respected airliner.
The new contract for Port Harcourt and Kano have brought the airlines fully under the cover of NAHCO Plc.
On March 15, 2022, NAHCO announced a string of new contract renewals; Virgin Atlantic and Delta Airlines have renewed their Lagos contracts with it. NAHCO Plc and Ethiopian Airlines have equally signed a new contract for the provision of warehousing services for the Airline's Lagos operations.
Air France/Royal Dutch also pitched tents with the company for its operations in Lagos, Abuja and Port Harcourt.
Speaking on the strides achieved in recent times by the Company, the Executive Director, Commercial and Business Development, Prince Saheed Lasisi, said,
"we are pleased with the patronage of our valued clients. We appreciate our ever-supporting Board and Management and the contributions of our hardworking and dedicated staff''.
He assured stakeholders on plans to consolidate NAHCO Plc's leadership position in the industry and the sustenance of the culture of excellent service.
About the company
Nigerian Aviation Handling Company PLC is a company domiciled in Nigeria with its registered office at Murtala Muhammed International Airport, Ikeja, Lagos.
The Group is primarily involved in provision of services including aircraft handling, cargo handling, passenger handling, passenger profiling, crew transportation, energy and power distribution and leasing of ground handling equipment.
Founded in December 1979, as Nigerian Aviation Handling Company Limited by the Federal Government, through the Federal Airports Authority of Nigeria (FAAN), Air France, British Airways, Sabena and Lufthansa, it has however become a publicly quoted company through privatization, and thus renamed NAHCO Plc.
NAHCO has 1.624 billion outstanding shares and a market capitalization of N6.49 billion. The company's share price currently stands at N4.00. The 52 week high price is N4.40 and 52 week ow price is N2.01.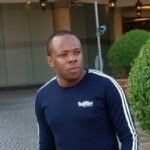 Nnamdi Maduakor is a Writer, Investor and Entrepreneur