The Director of the Norwegian Nobel Institute has responded to EU Politician saying that extending the deadline for nominations is not possible.
The response was addressing an open letter from EU politicians asking the Institute to extend the deadline for the submission of nominations for Nobel Peace prize so that Ukraine's President Volodymyr Zelensky can be nominated.
The Directors of the Institutes stated that the Nobel Peace Prize Committee will not be able to extend its deadline past January 31 to make the nomination of Ukraine's President Volodymyr Zelensky possible.
"As of today, the Norwegian Nobel Committee has not received the letter mentioned in your request. The Committee cannot extend the Nobel Peace Prize nominations deadline, which is January 31," the director said, in response to RIA Novosti's inquiry.
He added that the members of the Committee retain the right to put forward their own nominations until its first formal meeting. This has already taken place, on February 28.
The Norwegian Nobel Institute was established 1 February, 1904, tasked with supporting the Nobel Committee in its review of nominations and candidates for the Nobel Peace Prize.
This year's Nobel Prize announcements will take place from 3-10 October.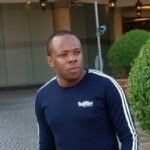 Nnamdi Maduakor is a Writer, Investor and Entrepreneur