An explosion has ripped through a section of a Europe-bound natural gas pipeline in Russia's Chuvash Republic, several hundred kilometers east of Moscow. The explosion caused a major fire, and killed at least three people and injured another, local officials said.
Russia Today reported that the incident prompted gas prices in Europe to spike, exceeding US$1,250 per one thousand cubic meters according to data from the ICE Exchange. Intercontinental Exchange (ICE) was founded in 2000 to digitize the energy markets and provide greater price transparency.
The explosion is coming a day after European Union (EU) countries agreed on a cap for natural gas prices as part of the European effort to end dependence on Russian energy and alleviate the high energy prices.
Under the compromise agreement, expected to come into effect by Feb. 15, natural gas prices will be capped if month-ahead contracts trading on the Dutch Title Transfer Facility (TTF) in Amsterdam exceed 180 euros ($191) per megawatt hour, as well as the global price of LNG by more than 35 euros, for more than three days. Once in effect, the cap would last for at least twenty days unless the prices fall below 180 euros for three days.
The explosion on Tuesday happened along the Urengoy-Pomary-Uzhgorod pipeline, according to local administration's press service. It added that the operating company had been conducting maintenance work on the conduit before the fire broke out.
The 4,500km pipeline which originates at a gas filed and Siberia serves as a route for transporting natural gas from Western Siberia to Europe via Ukraine. It crosses the border between the two countries in Kursk Region at the town of Sudzha, which remains the only point through which the gas is still flowing to Europe via Ukraine amid fighting between Moscow's and Kiev's forces.
While the time to fix the section of the pipeline cut by the explosion was unknow according to Chuvashia's governor, Oleg Nikolayev in a televised remark, Gazprom stated that the explosion did not affect gas supplies to Europe.
The regional branch of Gazprom said that the volumes of gas transit weren't affected because gas supplies continued on parallel links.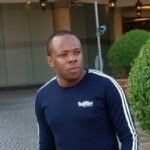 Nnamdi Maduakor is a Writer, Investor and Entrepreneur