The number of confirmed cases of Covid-19 in Nigeria increased by 288 on Friday as reported by the Nigeria Center for Disease Control (NCDC). The new cases were reported across 14 states and FCT, with 62.15% recorded in Lagos state.
The details of the new cases are as follows: 179-Lagos, 20-Kaduna, 15-Katsina, 15-Jigawa, 13-Borno, 11-Ogun, 8-Kano, 7-FCT, 4-Niger, 4-Ekiti, 3-Oyo, 3-Delta, 3-Bauchi, 2-Kwara, and 1-Edo.
There are now total of 5,445 cases in the country out which 1,320 have been discharged while 171 deaths have been recorded. Nigeria has the highest number of deaths from Covid-19 in West Africa.
Top ten states with highest number of confirmed are: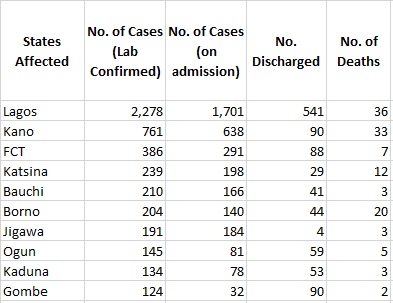 Lagos state remains the state with the largest number of confirmed cases. It has 41.84% of the total number confirmed cases in Nigeria. It is followed by Kano with 13.98% of the confirmed cases of Covid-19 in the country.
Till date total of 30,675 samples have been tested for Covid-19 in Nigeria since the outbreak began according NCDC. This number is child's play when compared to the 165,433 samples in Ghana, 403,018 in South Africa, 1.95 million in India, 2.81 million in Italy, 6.19 million in Russia or the 10.22 million tests in the U.S. these figures are as at 22:42 GMT of Friday.
There are concerns that Nigeria, with a population of over 200 million people, is conducting too little tests for Covid-19, hence the fear that the virus might be spreading in the country undetected.
The Lagos state government had on 12 May 2020, opened an online voting on Twitter, to get public opinion on whether to impose another lock-down on the state or not, as the level of non-compliance to the guidelines on ease of lock-down is high. The voting ended on Friday evening with Lock-down option getting the highest number of votes.
In Africa, 75,866 confirmed cases of Covid-19 have been reported, out of which 27,425 have recovered with 2,570 deaths recorded according to African Center for Disease Control.
Northern Africa still has the highest number of confirmed Covid-19 cases. The region has recorded 25,006 cases, 9,971 recoveries and 1,340 deaths. Egypt is the worst affected country in the region with 11,228 confirmed cases, 2,799 recoveries and 592 deaths.
The North is followed by the West African region, with 22,386 confirmed cases, 6,764 recoveries and 464 deaths. Ghana remains the country with the highest number of confirmed cases in West Africa at 5,530 with 674 recoveries and 24 deaths.
Ghana is closely followed by Nigeria as the second country to have the highest number of confirmed cases in West Africa. However, Ghana ranks number six in terms of country with the most Covid-19 deaths.
The number of deaths in Ghana is very low when compared to 171 deaths  recorded in Nigeria.
Nigeria is the only country in West Africa with more than 100 Covid-19 deaths. It is followed by Burkina Faso which has recorded 51 deaths from 780 confirmed cases.
In Brazil, the health minister Nelson Teich has resigned, after staying on the job for less than one month. He is the second person to leave the job within a month as the country battles the spread of Covid-19. His predecessor Luiz Henrique Mandetta was fired by the President over social distancing row in April.
Nelson Teich had resigned after criticizing the country's President, Jair Bolsonaro for allowing gyms and beauty salons to reopen despite the increasing number of Covid-19 cases in the country.
Brazil is the sixth country with the highest number of confirmed cases of Covid-19 after overtaking France and Germany. The country has a total of 212,198 confirmed cases with 79,479 recoveries and 14,455 deaths. On Thursday alone 844 deaths related to Covid-19 were reported.
In the U.S, a Covid-19 vaccine trial on six Rhesus Macaque monkeys, conducted by researchers from the U.S government's National Institute of Health (NIH) and University of Oxford, appear to show some sign of hope as the animals used for the trial appears to have less Covid-19 virus in their lungs.
The vaccine which is now undergoing human trial seems to protect the animals against developing pneumonia. The animals also did not develop "immune-enhanced disease".  This finding is promising because Rhesus Macaque Monkeys has similar immune system as humans. Globally there are over 100 potential vaccines for Covid-19 according to WHO.
Slovenia a country of about 2 million people, became the first country in Europe to declare that its domestic coronavirus outbreak is officially over.
The country's government confirmed in a statement on Friday that its Covid-19 epidemic had ended, after Slovenia's National Institute of Public Health concluded "all indicators point to a slowdown in the spread of the virus in the population."
On Thursday, only one new case was confirmed in the country by Slovenia's Ministry of Health, with no deaths recorded. Over the past two weeks, just 35 people had been infected with coronavirus, according to the health authority.
Slovenia has reported 1,465 cases of Covid-19, with 270 recoveries and 103 deaths.
Globally there are 4,516,360 confirmed cases of Covid-19, with 1,622,354 recoveries and 306,051 deaths according to John Hopkins Coronavirus Resource Center as at 22:24 GMT on Friday.
288 new cases of #COVID19;

179-Lagos
20-Kaduna
15-Katsina
15-Jigawa
13-Borno
11-Ogun
8-Kano
7-FCT
4-Niger
4-Ekiti
3-Oyo
3-Delta
3-Bauchi
2-Kwara
1-Edo

5445 cases of #COVID19 in Nigeria
Discharged: 1320
Deaths: 171 pic.twitter.com/WOllJ4pGlc

— NCDC (@NCDCgov) May 15, 2020
Written by
Ifunanya Ikueze