The Board of Directors of Chemical and Allied Products Plc (CAP Plc) will recommending the payment of N2.10 dividend per ordinary share to Shareholders for the 2020 financial year ended 31st December, 2020.
This was part of the resolutions approved by the Board of Directors of the company held on Monday March 22, 2021 at No. 2 Adeniyi Jones Avenue, Ikeja, Laos at 10.00am.
The Board resolved as follows;
That the Audited Financial Statements of the Company for the year ended December 31, 2020 be and are hereby approved; and that same be submitted to the Nigerian Stock Exchange, Securities and Exchange Commission and any other regulator no later than March 31, 2021.
That a dividend of N2.10k per ordinary share be recommended for payment to the shareholders subject to appropriate withholding tax and the approval of the shareholders at the Annual General Meeting.
About CAP Plc
Chemical and Allied Products Plc (CAP) is a leading paints and coatings company in Nigeria with globally recognised brands such as Dulux and Caplux. CAP manufactures and sells premium and standard paints and coatings  and  is  the  sole  technological  licensee of  Akzo  Nobel  Coatings International B.V. in Nigeria.
CAP pioneered the colour centre concept in Nigeria in 2005, which resulted in the evolution  of  the  Nigerian  paint  industry.  Today, CAP has 76 colour centres  and colour shops across 31 states.  CAP is a public company listed on The Nigerian Stock Exchange. It is  a  subsidiary  of  UAC  of  Nigeria  PLC  which  holds  51.49%  of  the  company's  shares.
The company announced a proposed merger between CAP and Portland Paints and Products Nigeria Plc in the fourth quarter of 2020.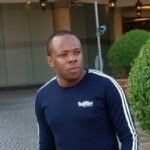 Nnamdi Maduakor is a Writer, Investor and Entrepreneur