Airtel Africa Plc (NGX: AIRTELAFRI) has set Friday 4th 2022, as the date to announce its nine months financial report for the period ending 31st December 2021.
The announcement was contained in a publication on The Nigerian Exchange, sighted by Investogist.
The Management of AIRTELAFRI will host a conference call for analysts and investors at 12:00pm UK time (GMT) on Friday 4 February 2022.
Read also; Dangote Cement Plc commences Tranche II of its Share buyback
To receive an invitation with the dial in numbers to participate in the conference call can register before the event using the link.
About Airtel Africa
Airtel Africa Plc is a leading provider of telecommunications and mobile money services, with a presence in 14 countries in Africa, primarily in East Africa and Central and West Africa.
Airtel Africa offers an integrated suite of telecommunications solutions to its subscribers, including mobile voice and data services as well as mobile money services both nationally and internationally.
The Group aims to continue providing a simple and intuitive customer experience through streamlined customer journeys.
AIRTELAFRI has 3.75 billion outstanding shares and a Market Capitalization of N3.94 trillion. It is the second most capitalized stock on The Nigerian Exchange.
It's share price currently stand at N1,059.50, its 52 week high price. The 52 week low price is N601.00.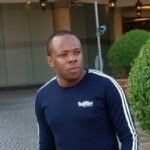 Nnamdi Maduakor is a Writer, Investor and Entrepreneur