SLB (Slumberger) is recruiting for a Well Placement Engineer to be based in Lagos, Nigeria.
Also read; Norway is granting skilled workers entry visa to apply for residence/work permit
The Job Details and how to apply as published on the company's website are as follows;
Well Placement Engineer
Description
The Well Placement Engineer is responsible for assisting in delivery of safe, efficient, and reliable products and services to our customers. Active participation in promoting new technology and services as well as real-time support to Operations as required.
The job consults with operations groups as needed to support the area of expertise and identifies opportunities for continuous improvement of product and service delivery and formally communicates findings.
The Well Placement Engineer actively participates in promoting new technology, services offerings and supports the Business Line in risk management and applying lessons learned to improve job design and execution as related to the area of expertise.
Job Responsibilities
Provide technical support throughout the Sales and Product and Service Delivery process.
Assist as required with the development of technical job designs for Business Lines.
Assist with identifying areas where new and cost-effective techniques can be applied.
Explore opportunities for value-added products and services.
Consult with Design/Technical Engineer role as required to optimize the technical design.
Assist in real-time incident response, recovery, and investigation as related to the area of expertise.
Assist in evaluating technical viability and overall appraisal of tenders as related to the area of expertise.
Understand the competition's technical offering
Maintain customer visibility through active participation in professional society activities and calls for papers.
Contribute, write, and review technical publications.
Engage with local universities, Customer institutes and research organizations.
Requirements
We are looking for people that are willing to learn, great attention to details, problem solving abilities, highly adaptable, performance driven, remain current on new technologies and collaborative skills with the below qualifications
Bachelor's or master's degree in mechanical, Petroleum Engineering or any related engineering discipline
At least 10 years' experience in the energy industry
At least 3 years' experience as a Well Placement Engineer
At least 3 years' experience working on MWD/LWD
At least 3 years' experience handling Well Correlation and LWD data interpretations (an added advantage)
Location:    Lagos, Nigeria
Company:  SLB
About SLB
SLB is a global technology company, driving energy innovation for a balanced planet.  We are the world's leading provider of technology and services to the energy industry across the world. As a leading employer in our industry, SLB is proud to offer a highly competitive package of base and incentive compensation as well as a comprehensive benefits program designed to support the health, wellness and financial security of our employees and their families. SLB is an equal employment opportunity employer.
Qualified applicants are considered without regard to race, color, religion, sex, national origin, age, disability, status as a protected veteran or other characteristics protected by law.
#WeAreSLB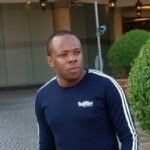 Nnamdi Maduakor is a Writer, Investor and Entrepreneur