A day before the anticipated deadline for countries termed as "unfriendly" by Russia to start paying for gas in local currency; rubles, the Kremlin has come out to say that the switch will take time after all, and the implementation of the directive by President Putin won't begin immediately.
In the preceding week, Russian President Vladmir Putin had ordered the the government to take necessary steps to switch all payments for Russian natural gas from "unfriendly" importers to the ruble, starting March 31.
Speaking to reporter on Wednesday, Kremlin spokesman Dmitry Peskov said that importers will be allowed to adjust to the new regime. "This process is more drawn out in time for technical reasons," he said.
Also read; War in Yemen: Saudi Arabia agrees to Ramadan truce ahead of peace talks
The G7 had on Monday dismissed the demand for payment of gases in rubles. All members of G7 countries are on Russia's list of unfriendly countries, with all but U.S.A and Canada dependent on Russian Gas to varying degrees.
with G7 and European Union leaders rejecting Putin's demand to pay for natural gas in rubles, Russian lawmaker Ivan Abramov said that Russia will turn off gas supplies if the "unfriendly countries" refuse to pay for the gas in Russian currency.
The move to have gas supplied paid for in rubles targets states that are waging economic warfare against Russia by imposing numerous sanctions and freezing the country's foreign currency reserves, following the launch of the military operation in Ukraine.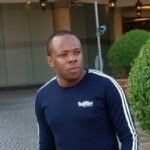 Nnamdi Maduakor is a Writer, Investor and Entrepreneur