Germany has told its EU partner Poland to stop sending Ukrainian refugee trains westwards to Berlin. The first German stop for most Ukrainians fleeing war at home is Berlin's main train station.
The Polish Deputy Interior Minister, Pavel Shefernaker made this known when speaking to TVN24 on Monday. He stated that he has been asked to stop sending Ukrainian refugees by train to Germany, as Berlin struggles to cope with the influx of people fleeing the War in Ukraine.
Also read; Wealthy Russians move funds from Switzerland & UK to Dubai
Pavel went further to explain that the scale of forced migrants from Ukraine took the countries of Europe by surprise.
"Last night I spoke with the German Interior Ministry, where we were asked to suspend special trains that go to Germany, because there is already a bottleneck situation there," he said in an interview with a journalist.
The deputy minister noted that 28,000 people left Poland by train in three days. 1.5 million Ukrainians remain in the country.
"We must all support each other, I count on this European solidarity," Schäfernaker stressed.
On March 12, the French authorities announced that more than 10,000 Ukrainians had entered the country. The country can accept no more than 25 thousand people.
According to the United Nations (UN), more than 2.8 million people have fled Ukraine after Russia's military attacked on February 24, saying its goal was to demilitarize and "denazify" the country and protect the Donbass republics.
Refugees are crossing daily into neighboring countries, including Hungary, Moldova, Poland, Romania and Slovakia, before moving on to other nations in pursuit of safety.
In 2017, during the Syrian refugee crisis in Europe, Poland along with Hungary refused to take in any refugees under a  2015 deal that was supposed to allocate 160,000 people among EU member countries in order to take the load off Greece and Italy.
The Interior Minister, Mariusz Blaszczak said at the time that, "In agreeing to take in refugees, the put a ticking bomb under us," Interior Minister Mariusz Błaszczak told reporters in Brussels. "We're defusing that bomb."
In April 2020, The European Union's top court ruled that Poland, Hungary and the Czech Republic broke EU law by refusing to host refugees to relieve some of the burden from countries like Turkey and Greece.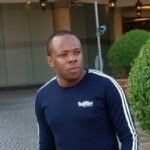 Nnamdi Maduakor is a Writer, Investor and Entrepreneur