Estonia has become the first NATO member nation to formally call for the implementation of a no-fly zone in Ukraine.
The Parliament of the Baltic state, on Russia's North-Western boarder, on Monday called for UN member states to take immediate steps to establish a no-fly zone over Ukraine.
Read also; Russia-Ukraine war halts Steel and Paper mills' operations in Italy
In the parliamentarians view, the no-fly zone is to prevent further civilian casualties as Russia's multi-front war against the country rages on.
"The Riigikogu (Parliament of Estonia) expresses its support to the defenders and the people of the state of Ukraine in their fight against the Russian Federation that has launched a criminal war, and calls on showing absolute support to Ukraine in its war for maintaining its freedom, sovereignty and territorial integrity," Estonia's parliament said in a statement Monday.

"The Riigikogu asks the UN member states to take immediate steps to establish a no-fly zone in order to prevent massive civilian casualties in Ukraine," the body stated. "The Riigikogu urges all national parliaments to adopt statements that call on their governments to support the imposition of additional sanctions against the Russian Federation as well as the Republic of Belarus that participates in the aggression."
The parliament went further to call for the "immediate imposition of a comprehensive trade embargo on the Russian Federation and the Republic of Belarus, which would restrict the capability of the aggressor states to wage war."
Lending a voice to Ukraine's application for the status of a EU candidate state, it invited member states to support the application and went further to call for granting a roadmap for Ukraine to become a member of NATO.
Ukrainian President Volodymyr Zelenskyy has been pleading with the United States and western allies to implement a no-fly zone over Ukraine.
Biden and NATO have ruled out a no-fly zone over Ukraine, saying that enforcing it would put the U.S. and NATO in direct confrontation with Russia and would expand the conflict.
On Saturday, 5th March 2022, Russian President Vladimir Putin made clear that any attempt to impose a no-fly zone would be met with reprisal. "Any movement in this direction [to declare a no-fly zone] will be considered by us as participation of the respective country in an armed conflict," he said.
The next day, Russian Defense Ministry spokesman Igor Konashenkov warned Ukraine's neighbors, such as Romania, against allowing the Ukrainian air force to use their air bases. "The use of the airfield network of these [neighboring] countries for basing Ukrainian military aviation with the subsequent use of force against Russia's army can be regarded as the involvement of these states in an armed conflict," he said.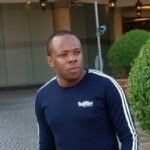 Nnamdi Maduakor is a Writer, Investor and Entrepreneur