Sterling Bank Plc (NGX: STERLNBANK) has notified the Nigerian Exchange Limited, its shareholders and the investing pubic of the appointment of Mr. Manish Singhal as a Non-Executive Director of the bank.
In a statement published by the bank, and seen by Investogist, Sterling Bank stated that it has obtained the approval of the Central Bank of Nigeria for the appointment.
Also read; Board of Directors UBA approve payment of a final dividend for 2022
Mr. Manish Singhal has over twenty-six (26) years of experience in the Financial Service Industry. He is currently the General Manager (Operations), International Banking Group (IBG), State Bank of India (SBI), where he oversees the Operations and Information Systems, Human Relations & Expansion Planning, and Strategy. He also oversees the implementation of IT-related policies and the activities relating to the IT infrastructure of SBI, among other responsibilities.
Before his current role at SBI, Mr. Manish Singhal worked as a full-time Director and Chief Financial Officer at SBICAP Securities Limited (a wholly owned subsidiary and broking arm of the State Bank of India).
During his career in SBI, Mr. Manish Singhal has held several other positions. He has vast experience in Business Development, Risk Management, Compliance, Customer Service, Human Resources, Administration, and Products Development.
Mr. Manish Singhal holds a Master of Science (Mathematics) from Garhwal University and is a Certified Associate of Indian Institute of Bankers (CAIIB).
Sterling Bank's 2021 Financial Statements shows that State Bank of India holds 7.19bn shares of the bank, representing 8.86% shareholding in the bank.
In September 2022, Sterling Bank announced the resignation of Mr. Paritosh Tripathi from its Board. Mr. Tripathi was one of the two Indians representing the interest of State Bank of India in the Bank.
Mr. Tripathi was appointed to the Board on the 27th of April 2021, alongside the Mr. Ankala Prasad, the other Indian on the Board.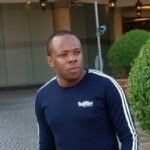 Nnamdi Maduakor is a Writer, Investor and Entrepreneur