Unione Sindacale di Base (USB), one of Italy's largest trade unions has called for a protest outside the Pisa airport on Saturday over alleged transport of weapons to Ukraine under the guise of humanitarian flights.
The Union in a statement said that some workers of the civil airport Galileo Galilei in Pisa informed it that "humanitarian" flights that were to depart from the cargo village located at the airport were loaded with weapons instead of provisions, food and medicines as all humanitarian flights should.
Also read; Airline operators will be granted license to import petroleum product – Mele Kyari
The document written in Italian sighted by Investogist translates to;
When they showed up under the plane, the cargo workers were faced with crates full of weapons of various types, ammunition and explosives.

Faced with this very serious fact, the workers refused to load the cargo: these planes land first in the US/NATO bases in Poland, then the cargoes are sent to Ukraine, where they are finally bombed by the Russian army, resulting in the death of other workers, employed in the bases affected by the attack.

We strongly denounce this genuine forgery, which cynically uses "humanitarian" cover to continue fueling the war in Ukraine.
Francesca Donato, an Italian member of the European Parliament, commented on the union's statement by calling on the government in Rome to "clarify" what is happening.
USB is calling for a protest under the slogan "bridges of peace, not flights of war" outside the airport on Saturday, March 19 to demand the following;
The air traffic control structures of the civil airport to immediately block these flights of death disguised as "humanitarian" aid.
Workers to continue to refuse to load weapons and explosives that feed a spiral of war, which we can only stop with an immediate ceasefire and the relaunch of peace talks.
Citizens to participate in the demonstration on Saturday 19 March in front of the Galilei airport (3pm) on the slogan "From Tuscany bridges of peace, not flights of war!"
An online publication floridagoodfriday reported that in recent days there have been dozens of military flights directed to the Rzeszow military base in Poland and departed from the Italian airports of Pisa, Grosseto and Pratica di mare.
The regional councilors of the Movimento Cinque Ctelle Irene Galletti and Silvia Noferi intervened on the weapons from the Pisa airport and announced an urgent question to ask the Region if the news corresponds to the truth.
Between 1 March and 13 March there were at least 27 military flights of the Italian Air Force departing from the airports of Pisa, Pratica di mare and Grosseto and headed for Poland, at the NATO base in Rzeszow. All have avoided flying over the airspace of Hungary, which does not allow the passage of military cargoes to Ukraine from its territory.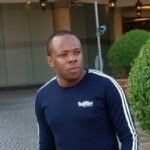 Nnamdi Maduakor is a Writer, Investor and Entrepreneur